Blog
Instagram Iconosquare review for wedding photographers
Instagram Iconosquare review is one of the gifts of the world-famous service of photography Instagram. In a few years the usual platform has turned into a whole global social network.
Instagram Iconosquare review is one of the gifts of the world-famous service of photography Instagram. In a few years the usual platform for sharing photos with friends and people around the world has turned into a whole global social network. If you learn to use it correctly and have a circumspect strategy, then this network will bear fruit to your wedding services. But let's not forget that we are professionals. Let's leave bunch of photos of bears, flowers, food and other glamorous photos with photo retouch before and after to our customers, and we will use Instagram ourselves as an element of our promotion.
Is there a program for viewing subscribers in Instagram? How can you see who has unsubscribed from you? How to determine your target audience? How to get the extended statistics of the development of your site and make over the Instagram for a PC more convenient? To do this, there are useful online tools. In this article, we will just figure out what is Iconosquare, which can be called the "must have" of any business site on Instagram platform. It offers massive opportunities for analyzing statistics and managing a user account. Formerly, the site was known as Statigram, today Iconosquare.com.
In this video "Introduction to Iconosquare" you will get acquainted with Iconosquare pro, and the author of the presentation will tell you the main functions, which we will discuss in more detail later.
How Instagram Iconosquare helps to develop your wedding business
First you need to understand what is Iconosquare and how it will help wedding photographers to attract more stakeholders to their work.
Professional, effective work in social networks requires certain knowledge and skills. One of them is the analysis of actions, the results obtained, and so on. If you are new to this business, you should rather join your colleagues and develop a strategy; in this our mini-instruction "How to start a successful wedding photography business" will help you. But let's talk with those who already have accounts in social networks and do not know how to turn them into a business tool.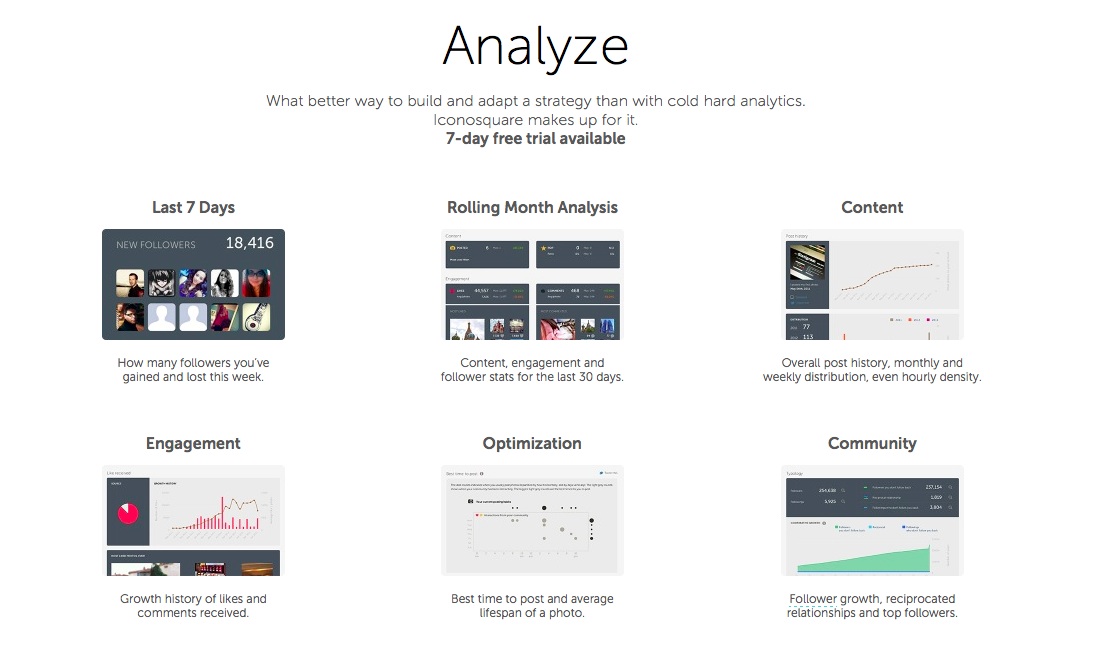 Tiny drumroll, we present to you an indispensable assistant for Instagram with a user-friendly interface Iconosquare. This is a multifunctional online service that simultaneously gives access to the usual functions of the client and additionally generates data on the statistics of the profile. The Icono square site can come in handy if you maintain a corporate account.
Iconosquare provides a large number of metrics. Among other functions, the platform has a count of the total number of received likes, a picture that has received the highest number of likes ever, an average number of likes and feedback per photo, a graph of subscriber growth, and more advanced metrics such in Iconosquare review. Service paid, the cost is from $ 28 per year, but anyone can use the free 7-day version.
What can Iconosquare service offer to Instagram users?
To use all the functionality of Icono square, you need to sign in with your Instagram profile information. So, let's look at the elements:
• Viewer
In the "Viewer" section of the "Feed" tab, you can view the news feed in a convenient way: photos are shown in a scaled-down format in several columns, while in the desktop version of Instagram you can only view 1 post without scrolling the tape. In "My Media" is the content of the social page connected to the system, in "My Likes" – your marks "Like".
The functional also allows you to see subscribers in Instagram through a computer in "My Followers" and see your subscriptions through "My followings". The "Populars" tab displays the most in demand photos that received the volume of likes / comments.
Through the "Viewer" it is also possible to comment and like other people's photos and repost them (from the Instagram reposts cannot be done). In the Iconosquare pro version, you can sort photos by likes / comments.
• Statistics
This section will be useful for owners of corporate Instagram accounts and professional wedding photographers, those who advertise and promote something.
In the section "Analytics" you can observe the activity of the profile and the growth of subscribers in Instagram, see who has unsubscribed or subscribed. Valuable and diverse information in the form of graphs and diagrams is useful for business. Here you can collect useful data for the subsequent promotion of your account. This function is paid, but has a free test period of 7 days.
Note: the presence of this section makes the service unique, unlike many other browsing services for Instagram. Because monitoring the stats you can update your strategy of promotion.
• Snapshots
"Snapshots" is a function that allows you to share your account statistics with your subscribers or send a report to a higher-level management if you are keeping a corporate blog in Instagram.
• Manage
The "Manage" tab displays the last 5 comments that can be answered directly from the service. In the second tab "Private message" you can carry on personal correspondence with users.
• Promote
Here you can share a link to viewing the Instagram account through Iconosquare with those who are not registered in this social network. Here you can create a photo collage from the profile posts for Facebook pages or expose your photo retouching rates with examples, and also make widgets and buttons for external Internet resources.
• Contest
Here you can participate in various photo competitions, which are constantly held by various companies for the purpose of advertising. You can create your own contests to attract subscribers and increase activity with their help. For example it can be "Your funniest wedding photo" contest.
About some popular contests besides those on Instagram Iconosquare, you can peep here "A small tour through the main wedding photographers contests and festivals 2017".
• Search
In the upper right corner, next to the menu there is the search line for users or hashtags.
Answers to the number of questions that you will have
How take advantage of the Instagram application, when to publish photos, what are hashtags and how many should be put, how Instagram will help your organization to promote ideas and products we present you a selection of answers to the most important questions that every Instagram user may have.
1. How to start using Instagram?
In order to upload, edit and share photos with friends and subscribers, you need to download and install a free application (iOS, Android and Windows Phone).
You can also see photos of other users through the web interface and if you have an account and if you log in you can just like and comment on photos of others. But you cannot publish your photos via the web-interface; in this regard you need an application. But first you need to set up your personal account; we will immediately share some secrets that you will find here «How to start a photography blog – Secrets and tips for successful blogging». If you created your organization's account in Instagram do not forget to tell your audience about it so that they can subscribe and see your photos in their feedback.
2. What kind of audience involvement is to be expected?
If you look at successful Instagram accounts and look for the same number of likes and messages, then you will be interested to know the statistics. Sabel Harris conducted a study and found out that big brands gain an average of 37 likes and messages under posts for every 1,000 subscribers. Thus, if you multiply the number of your subscribers by 0.037, you get an approximate quantity of likes and comments that you can be on the look-out for.
Of course, this is an approximate statistics the activity of your subscribers in Instagram will largely be determined by who they are, and by what content you share with them. And to check up it so, you can always address for help to Instagram Iconosquare.
3. When is it best to publish photos?
Analysts from SumAll have determined the best time for recording in various social media, including Instagram. According to their findings, this time is from 5 to 6 PM on working days, on Monday from 5 to 8 PM. This research SumAll illustrated with a funny infographics, Instagram you can find in the middle of the cat's paw:
On the other hand, the very nature of Instagram is such that it contradicts some definite ideal time of publication. This social network is designed so that you can easily and quickly share what's happening to you, so if you capture something interesting, it makes sense to share it at the same time, rather than wait for the evening when the photo can stop be relevant. For example, it can be a photo from a backstage.
Also pay attention to the "night effect": if you post a publication at a time when almost no other publishes anything (for example, at night), then it will be more noticeable. You can try to publish photos at different times and look at the reaction of your audience. Thus, you will be able to identify the optimal time for you when your subscribers are most active (in this you can also be helped by analytical tools such as Iconosquare pro).
4. How do hash tags work?
One of the best ways to attract a new audience to your account is to add hashtags to your photos. Thanks to the hashtags, you will be able to find people interested in what you are doing (or those who like how you take pictures).
Hashtags are words before which the symbol # is put and which in one way or another reflect the content of the photo. For example, if you photographed a family, you can add #family and #family photo editing hashtags. Thus, people who view photos with these hashtags will be able to see your photo as well. Using this hashtag as a filter, you can easily see all the photos added by other users.
Hashtags can be specified both in the description to the photo, and in the comments (if you suddenly published a photo, forgetting to add hashtags to it). In addition, hashtags can be very useful if you or your studio is hosting a contest and asks subscribers to add photos with a specific hashtag.
5. How many hashtags are better to put?
Many believe that the optimal number of hashtags is 5. This quantity of hashtags is enough to add all the main keywords and at the same time do not create a feeling of "cluttered" photos.
In this case, the more hashtag you use, the more people will be able to see your photo and the more you will be able to get the likes. This difficult choice between a large number of likes and aesthetics is up to you. Perhaps our article "What Is SEO For Wedding Photographers?" will help you figure out which is better to use hashtags or SEO elements.
6. How are Instagram postings seen on other social networks?
Instagram allows you to easily share your photos in other social networks, such as Facebook, Twitter. In each social network, your posts from Instagram will be slightly different, but if on Facebook you see your photo and the caption, while the publication on Twitter will look like a description of the image and a link to this image in Instagram.
7. How can we download photographs from a computer?
You can publish any image to Instagram, it is not necessary that it be done on the smartphone's camera. It can be a picture taken on a professional camera, or a processed image any picture from your computer you can publish in Instagram.
8. How to arrange a contest in Instagram?
Contests are a great resource to engage your audience and attract a new one. Arranging a contest in Instagram is quite easy, for this purpose you will need:
• Define goals;
• Select evaluation criteria;
• Select a hashtag;
• Announce conditions and terms for target group;
• Launch a competition and disseminate information about it;
• Support the contest game;
• Reward the winners.
You can follow the progress of the contest through Iconosquare review.
9. Which third-party applications are best used with Instagram?
Together with the standard filters and editing tools available in Instagram, there is a mass of the third-party applications that will help you edit and upload photos to Instagram. But it is better when you edit your wedding photos yourself or use the services of one wedding photo editing service, as you will have an individual style of portfolio.
10. How to exploiter Instagram and Iconosquare review for your wedding studio?
Instagram brings you many opportunities to toy around with photos and actions and supervise what works fine for you hashtags, contests or wedding shots, and Iconosquare will show you what is happening "behind the scenes" in your organization.
A couple more tips.
• Make publications regularly, but do not be too intrusive in promoting your product or organization;
• Show how people can use your product, not the product itself.
• Keep yourself informed with new trends in wedding photography and always track accounts of your colleagues and competitors.
• Communicate with your audience, share experiences and impressions; be active with your followers.
Instagram, when used correctly, has great potential because it's a good way to share what you are doing and interact with your audience. And pro.iconosquare.com has the most extensive tools for running a business account and its analytics. Icono square has a large arsenal of free services and wide paid features that are worth their money.
When you figured out how to start your business in Instagram, how to promote it, what is Iconosquare and how it helps you, then it's time to say how our service can help you in this. With the help of our wedding photography post processing services you will be able to create your unique and high-quality content, please your customers and develop yourself.
You are welcome to post your comments.
Post comment via your Facebook account