Blog
Beach Wedding Photography
In 2017, 1 of 6 American pairs chose a romantic ceremony on the shore of the ocean. The trend is becoming well-spread and wedding photographers offer beach wedding photography services in all states.
It sounds picture-perfect in theory but there are always a few things to keep in mind while you're planning to take best beach wedding photos.
---
Contents:
---
Beach wedding photography fashion appeared in the 90's in the US. Only celebrities and people with a large income held such wedding photoshoots. In 1998, a model Cindy Crawford was the first who held her wedding ceremony on the Bahamas and showed her beach wedding photography in public.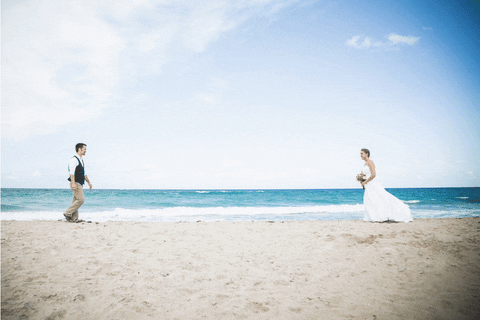 Since that time, this romantic trend began to gain popularity among all American couples.
Average beach wedding photography pricing in the US
Wedding photography prices depend on a variety of factors, ranging from the length of the shooting, the special props, the number of pictures to be edited, the complexity of the work and, of course, the destination where the wedding will be held. If it is a local wedding, which takes place on the local beach, such things don't matter much, but a photo session on the beach in Bali will significantly increase the photographer's fee.
It should be noted, that average local wedding photographers prices range from $1,500 to more than $5,000 for a photo shoot. If you plan to shoot at another state or abroad, mention the road trip fee. Let's take a look at some of the average package services that wedding photographers offer in the US.
12 best locations for beach wedding photography
Makena Cove Beach: Maui, Hawaii
If you want to relax from the hustle and bustle of people, don't come to this magnificent place. A huge beach with snow-white sand, a warm open ocean is amazing for wedding photography, but do not forget about thousand of people who relax on the beach as you, it's HAWAII!
Pink Sands Beach: Harbour Island: Bahamas
The Bahamas is a paradise that attracts tourists from all over the world with its beaches, unforgettable views, nature, romantic sunsets, as well as the most beautiful place for wedding photography. But one place here is especially unique, it is a beach with pink sand.
The beach of pink color is an amazing and rare phenomenon. It is called "Pink Sands Beach", but the locals call it "Briland", although there is another name - "the Nantucket of the Caribbean". Forbes magazine even called the Pink Sands beach "the most beautiful beach in the world". Newlyweds like to pose against the background of the pink sands. Here you will never get casual beach wedding photos. It's very hot here so take care of beach wedding attire for men and women before going there.
Seven Mile Beach: Negril, Jamaica
It is impossible not to fall in love in Seven Mile Beach. Once you get here, you forget about time pace, wander with a happy smile from the palm to the palm tree, admire the reflection of the sun in the azure water and never forget its colorful sunsets. There is not a single industrial enterprise around, and all buildings are not taller than a palm. Romantic beach wedding photography poses like the one above will beatify your client's wedding album.
Bavaro Beach, Punta Cana, Dominican Republic
There is the most elegant, luxurious and prestigious beach of Dominican Republic called "Bavaro" not far from the famous resort of Punta Cana. It is called royal and famous for the extraordinary beauty of white, snow-like sand and tropical palms, growing everywhere, both near the sea and around the pools. Here the personal photography services are simply necessary, weather conditions in summer require a good equipment and second shooters' help.
White Bay Beach, Peter Island, British Virgin Islands
Among various wedding photography UK services and places, White Bay Beach is a tremendously beautiful location for wedding photo sessions. Big rocks near the water are amazing props for your photography like on the example above.
Ocracoke Island: Outerbanks, North Carolina
Association of personal photo organizers called this place the best for peaceful and harmonious wedding photo shoots. If you want to enjoy long walks – you are welcome to visit Ocracoke. Many people associate this place with Blackbeard and secret fishing spots.
Maroma Beach, Riviera Maya, Mexico
Maroma Beach is almost deserted and is fenced off from the hustle and bustle of the jungle. There you will find no pebbles or seaweed. It is also remarkable for Secrets Maroma Resorts. It is very easy to find, it is located 24 kilometers from Playa del Carmen, and 48 from Cancun. These local wedding venues are marvelous.
Morada Bay: Islamorada, Florida
Wedding photography Florida will probably lose many of its peculiar features without Morada Bay. It is a combination of luxury, life pace of Florida Keys and natural beauty of Islamorada. What really impresses is a spectacular sunset.
Lover's Point Beach: Pacific Grove, California
Pacific Grove is located in the county of Monterey, on the central coast in California and this is the perfect destination for local wedding photography. Pacific Grove touches with its charm of a quiet provincial town. In addition, it has the nickname of the "American city of butterflies", as in winter thousands of migrating butterflies-monarchs come here. Lots of celebrities and artists admire the town for its peaceful beauty of local places and stunning views of the ocean. Using professional tips for wedding photography and the beauty of the surrounding nature, you may create something special instead of casual beach wedding photos.
Cannon Beach: Cannon Beach, Oregon
Rocky Cannon Beach is a picturesque place that attracts travelers and romantics. It is one of the most famous beaches of the Pacific coast of Oregon, US. The coast of Cannon Beach in the natural park of Ekola is famous for its bright sunsets and views of the rocks that rise above the water. The Beach became widely known thanks to the cinema: it was one of the locations of the films "Goonies", "On the crest of the wave", "Twilight". Many local photography studios offer their clients thematic photo sessions here.
Coronado Island: San Diego, California
Coronado Island is probably the most beautiful venue, beach and garden city in southern California. Located on the border with Mexico, Coronado Island Beach was recognized as one of the best beaches in the US. There are flowers everywhere on the island - on the ground, trees and in pots and most buildings have no fence which creates a very cozy home atmosphere. In general, there is a very serene atmosphere on the island. Every single object here aims to make creative wedding photography.
Melasti Beach, Bali, Indonesia
Bali wedding venues are very interesting and can probably impress you and your clients. Everything is magical here. Cliffs, the color of water, white sand, the lack of people - all this turns out to be some kind of unreal beauty. There are so many shades of color, smells, and tastes. Everything can be felt, touched and experienced. Anybody may choose among Bali wedding packages and pursue the dreams. The combination of white stones, clouds and blue sea is amazing! Please, note, that you need about $900 to buy a roundtrip ticket from NY to Bali, which should be in the cost of wedding photography package.
Extreme beach wedding photography
Reynisfjara: black sand beach in Iceland
White sand is no longer able to surprise anyone. How about the black sand of Iceland? There is a unique black beach on the south coast of this country, which has lava origin. Once upon a time, the red-hot lava in this place came into the ocean and immediately froze in small drops. They filled the whole coast and so appeared this beautiful and unique place, which is now chosen as a destination not only by travelers, but also by couples to get married here.
Azores, Portugal
Diamond beach in Iceland
The beach is not only sand and gentle ocean. If you go to Iceland, you can visit a beautiful beach called Diamond Beach. Its main feature is that it is strewn with huge blocks of ice. And that's why it attracts so many visitors. This is an excellent field for your imagination, where you can create an unusual photoset amidst the incredible and even futuristic beauty of nature.
Sólheimasandur Beach, Iceland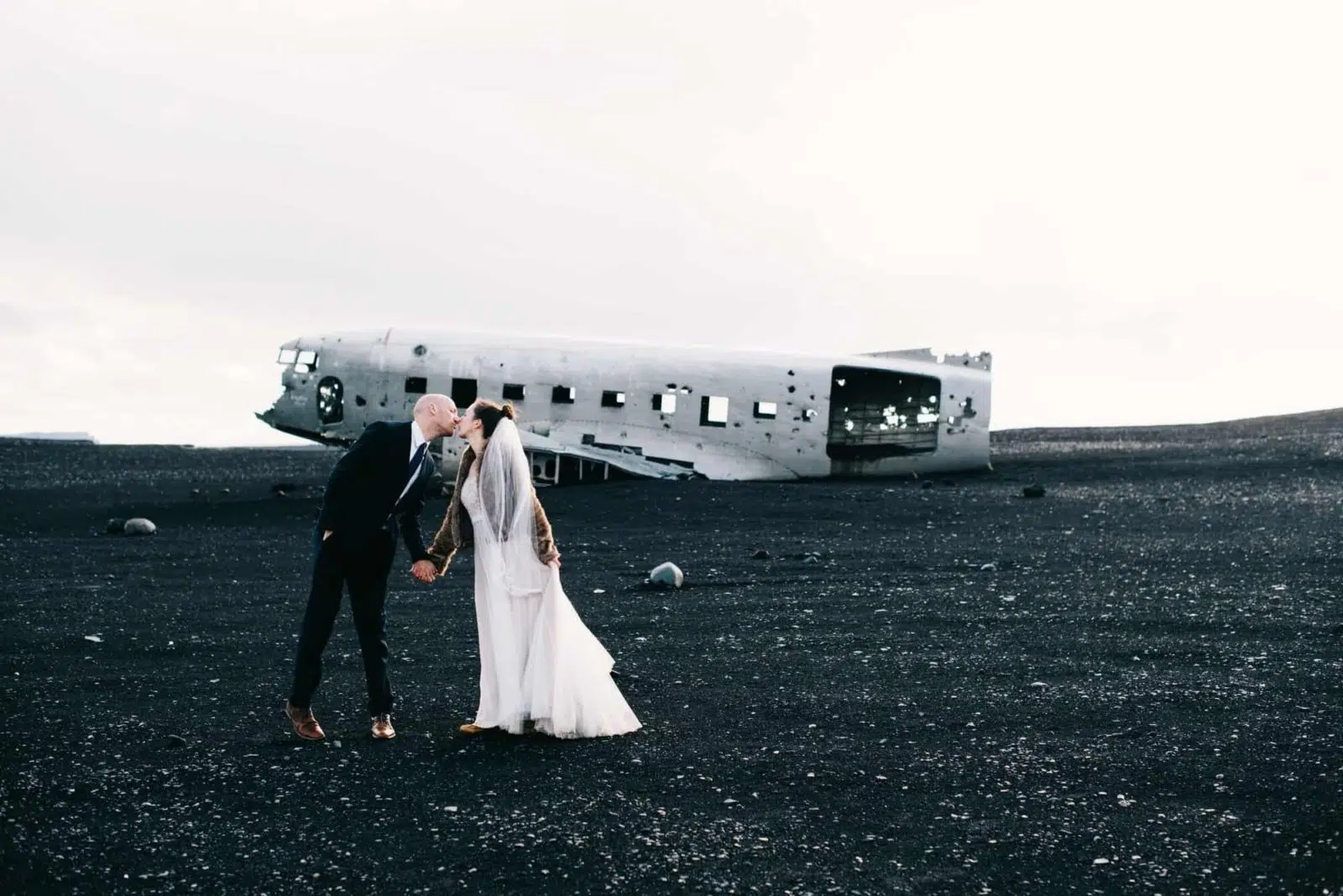 Forty years ago an American military aircraft was to make an emergency landing in Iceland. Fortunately, the entire crew remained unscathed, but the plane didn't fit in after a difficult landing, so it was left on the beach where the crash happened. Now this is one of the most attractive places for photography.
Nyani Beach, Bali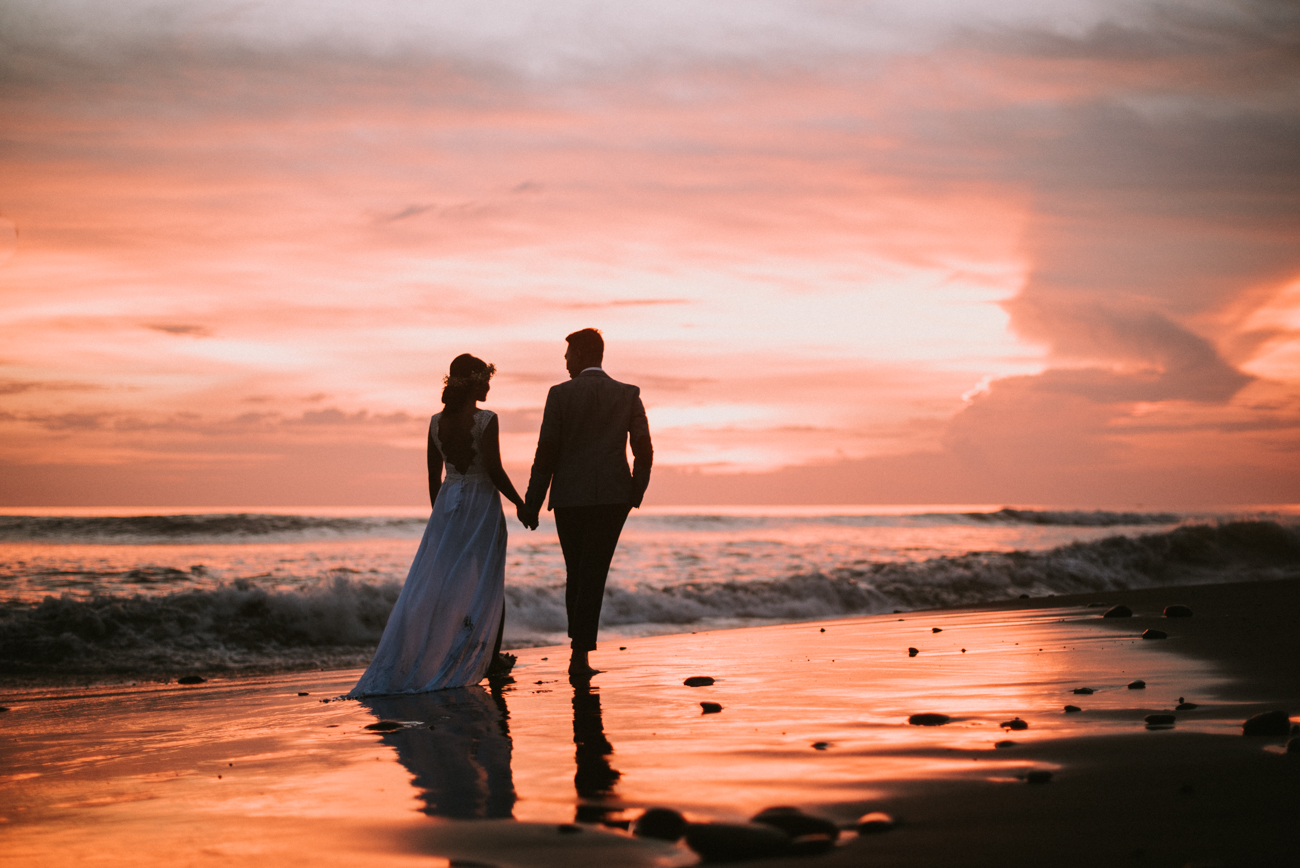 Bali is famous for its exquisite beaches with fine white or golden sand, but here you can find interesting places too. For example, a beach with volcanic sand of black color, which will perfectly set off the snow-white dress of the bride.
Giants Causeway Beach, Ireland
This beach in Ireland was formed 60 million years ago after the volcanic eruption, when a huge amount of lava got into the cold water and froze, and after it cracked, forming such column-like pieces.
Naked wedding on the beach
An unusual, but very popular trend is naked wedding. This is the original way for those couples who want to celebrate the love for the body and soul of their partner.
25 must-have beach creative wedding photography shots to take
The Aerial Shot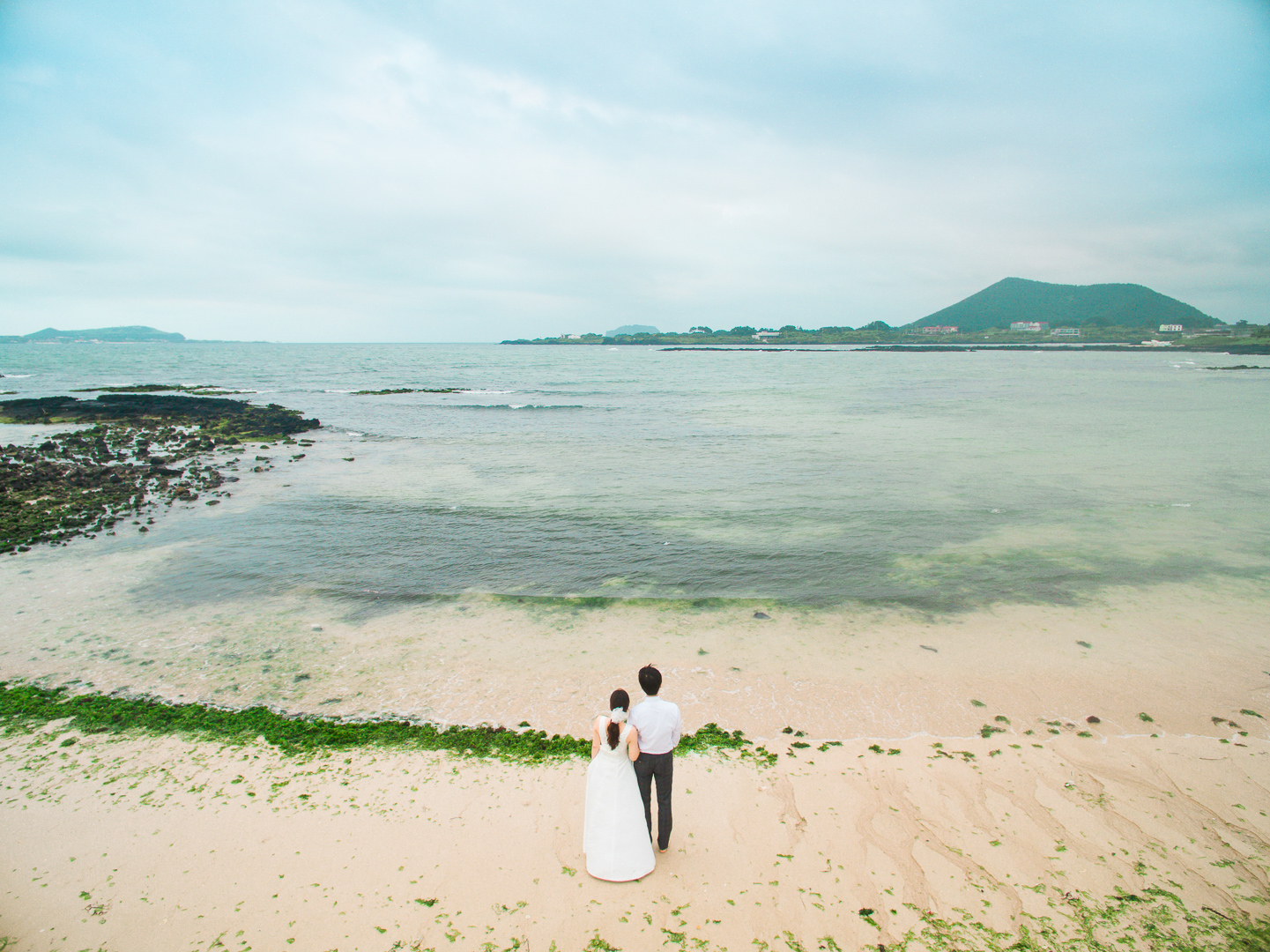 Aerial photography is a perfect chance to show the magnificent view of the beach and the ocean.
The Reflection Shot
All wedding photography services include reflection shots to their beach wedding photo gallery. Ocean beach is a perfect place for this kind of shooting.
The Running Shot
Pictures, in which people jump, run or dance, look lifestyle. It seems that time stopped for a single second and a photographer manages to catch something really special. Life is a movement and this couple is running toward their happy future. Amazing choice for wedding photography if you fed up from using basic beach wedding photography poses.
The Trash-the-Dress Shot
The emotions and passion shouldn't be kept secret. If your clients want to kiss each other, let them do it everywhere. Ocean waves are a great option. Note, these beach wedding photography ideas should be done not in the wedding day.
The Palm Trees Shot
Often photographers like to create shoot in which people and nature merge very organically. High palms help to focus attention on two loving people in the photo.
The Close-Up Shot
Such shots help a photographer capture the couple and show their feeling. Beautiful blurred beach help to create the proper atmosphere.
The Splash Shot
The movement of the waves and their splashes may be a symbol of people's passionate relationships.
The Blacked-Out Silhouette Shot
The Hand-In-Hand Shot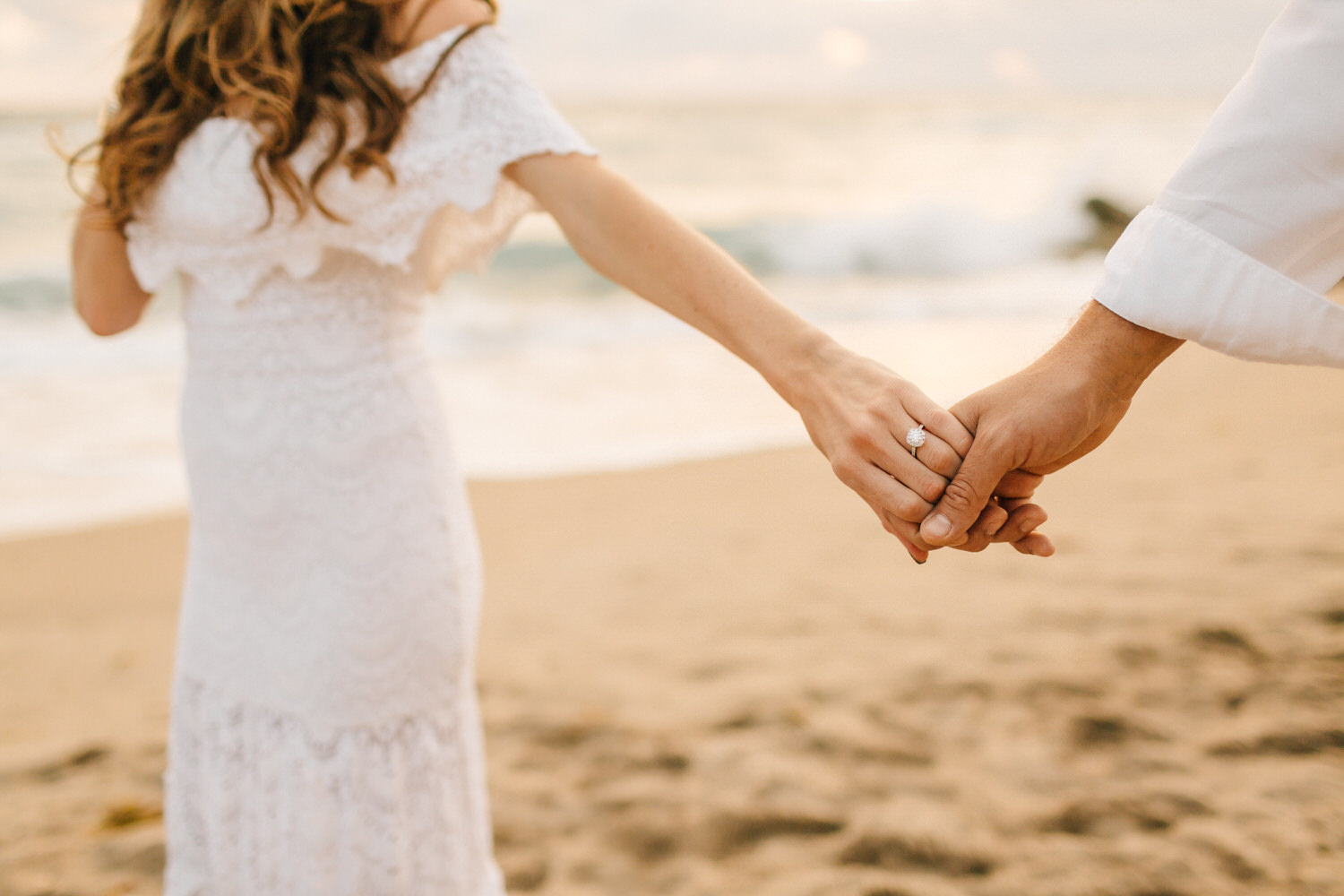 Sometimes you don't need to show all the details of the wedding. It is always about two people, their love, their happiness. Hand-in-hand images are tender and very romantic. If you love a person, you always want to touch him/her and keep the hand all your life. Wedding photographers strongly recommend having at least one such shot.
The Sunset Shot
With beautiful pink and orange colors, your photos acquire some tones of a fairy tale. There are only two people, whose feelings are hidden from the whole world. To make quality sunset photo, read about camera setting you should use to realize these beach wedding photography ideas below.
The Candid Shot
The cutest moments are usually unpredictable. Be ready to capture them.
The Ocean Waves Shot
Waves, where the sun reflects, may be used as an awesome background for wedding photo sessions.
The Far Out Shot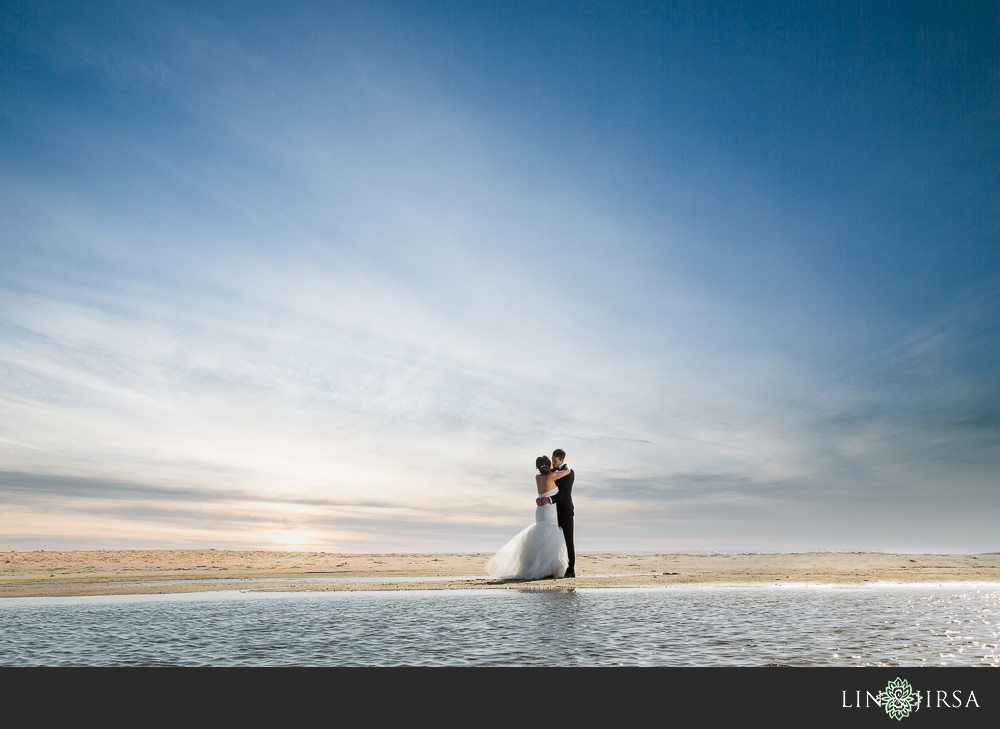 Ocean and sky seem endless and eternal as couples' love in far-out shots. In such a way you may capture nature and place the newlyweds in the center of a photo.
The Docks Shot
Feel free to use animals around you.
The Panoramic Shot
The Perfect Kiss Shot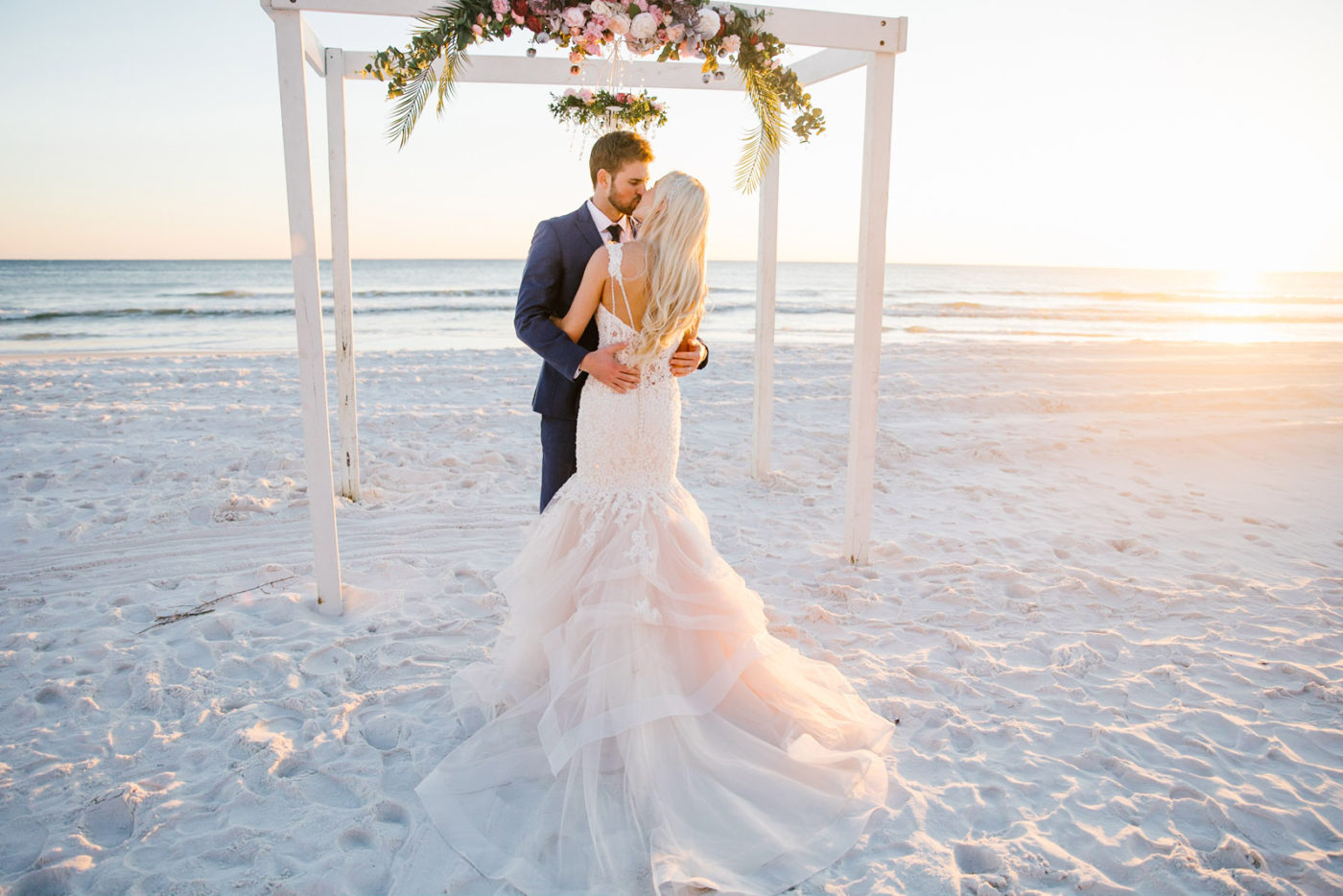 Kiss is a symbol of feeling. Beach background only enforces the atmosphere.
The Driftwood Shot
A huge blurred tree looks very organic in the shot. Pastel colors, white clothes and gentles tones – everything is very soft and delicate.
The Beach Creatures Shot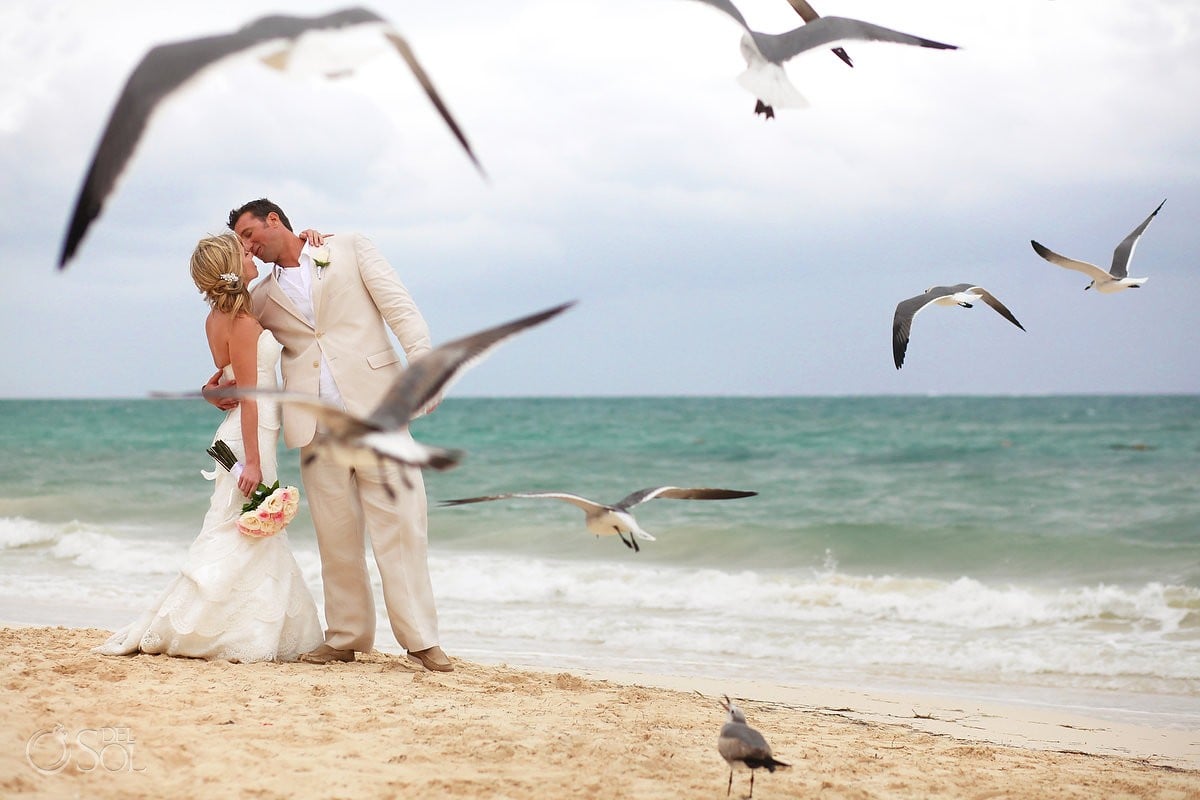 Beach animals and birds may serve as a frame for a photo. Film effect, isn't it?
The Nautical Shot
What is your first association when you think about an ocean? Seagulls, shells and ships. I recommend you taking some photos on the ship's board and in water.
The Sand Dunes Shot
Sandy shore, a calm ocean and two loving people – do you need something more for a perfect wedding photography?
The Carefree Shot
Make the couple feel relaxed and follow their hearts. First dance at the beach seems very romantic.
The Walk-on-the-Beach Shot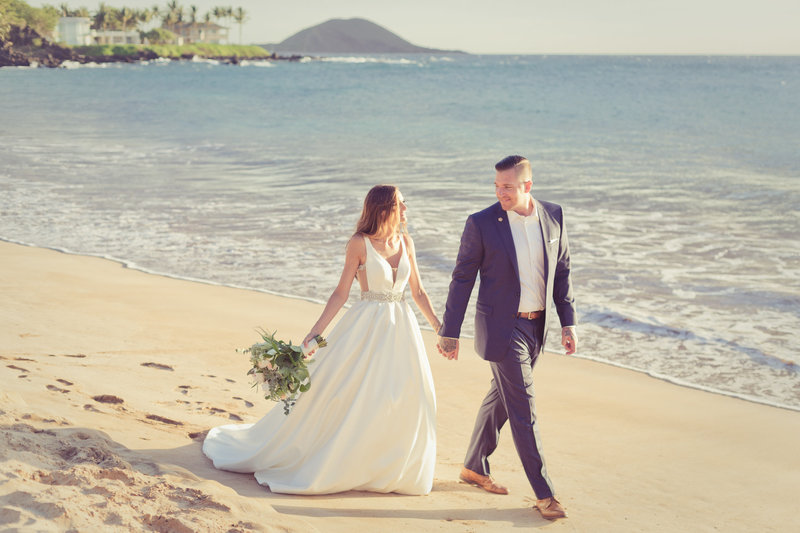 The long road of happy family life begins with the first step on the beach.
The Bedrock Shot
Use best wide angle lens for wedding photography to repeat this kind of photo. Don't forget about using backlights.
5 Beach Wedding Photography Rules To Remember
This is very old, but undoubtedly important and basic rule that will help you in your work. You don't have to worry about low-light shots while shooting on a beach, as there is enough natural sunlight around you. But still, be very careful. Bright light is tricky to work with. That's why take advantage of the Sunny f/16 Rule for fast exposure adjusting.
Apply the Manual Mode and follow apply these beach photography settings.
In other words, you should keep the aperture of f/16 and only regulate ISO or shutter speed. If you raise ISO – decrease the shutter speed. Take some photos without newlyweds to check if you are satisfied with colors.
Sometimes, in the absence of a large amount of light, photographers face the problem of faded photos. It's easy to accomplish if you always remember how to properly adjust the histogram. But if you don't have special knowledge in this matter, just remember that you need to move the slider to the right.
Don't forget to take with you UV filter. This filter perfectly copes with the task of filtering ultraviolet light. In addition, it perfectly protects your lens and camera from sand and water. Another type of filter is a polarizing filter, which will help make the color of the sky and water more vivid.
It's impossible to retouch all 1000 photos from wedding ceremony deeply, so photographers use color correction to make them look life and fresh. In 2018 Matte, Pastel, Light and Airy effects are in trend.
You can also use Lightroom wedding presets to receive these effects fast and then adjust them to your taste.
Every wedding photographer knows that beneficial sunsets are present on all the best beach wedding photos. The following tips will help you capture silhouettes during sunsets on the beach:
• Turn off flash and lighting optimization tools on your camera.
• Focus on the sky (not directly on the sun) and find the proper exposure, adjusting ISO, aperture and shutter speed. The couple should be dark. It is valid for manual mode.
• The principle quite similar for priority modes, but AE-L button eases your task.
• Experiment with poses.
Anyway, you can always add sunset in Photoshop or enhance the one you got.
A beach wedding is filled with some cool atmosphere and spirit. Everything is in motion – the ocean, the animals, the wind and people as well. There is poetry in motion and don't wait for the ideal moment. Watch the bride's dress flapping in the wind. It looks very natural and beautiful.
Jumping is the best pose for motion photos on the beach if the bride is in beautiful long wedding dress which contrasts with sky.
"Play" with birds or animals who live there. They will definitely not stand still, while you photograph, so catch them in motion.
Beach is a beautiful location but take utmost care of your equipment, as sand can spoil it. To protect it always have an endless supply of zip lock bags. You can pan anything you want in them.
Don't change your lenses (work with one or bring several camera bodies) as it is always the case for sand to get into them. Never put your camera directly on the sand. Using a tripod is always a good choice.
Oceans, seas and beaches provide excellent opportunities for wedding photography because of their amazing natural beauty, remarkable hues, and fascinating patterns of light. If you consider a beach wedding photography service to be a part of your photography portfolio, these tips will help you capture more exciting and creative beach photographs.
You are welcome to post your comments.
Post comment via your Facebook account