Blog
Wedding Bikini Photo Sessions - Professional Photo Retouching Bikini Model Techniques
There is a recently appeared trend going on around and that is bikini themed wedding. Yeas, you got it right, bikini wedding. What has contributed to its popularity?
Weddings abound in so many glorious moments of our lives, no one would ever presume to question that. That is the reason why sweethearts do their utmost at planning their memorable day, the birth of their own family, be means of choosing the most outstanding wedding theme, the right best man and maid of honor, location and so many other trifles which are so important when summed together. And speaking about wedding locations. Destination wedding locations are quite on hype nowadays. You can basically go to any picturesque and breathtaking corner of this planet and have the time of your life there enjoying yourselves as a new family as much as possible. Ah, it sounds just perfect, doesn't it? Nevertheless, there is one more trend going on around and that is bikini themed wedding. Yeas, you got it right, bikini wedding. It sounds odd and seems to be quite unconventional as for a wedding. Nevertheless, there is a multitude of people who always gravitate towards everything new. They are apt to try everything out, incorporate various innovations into their lives even if it means experimenting with their wedding.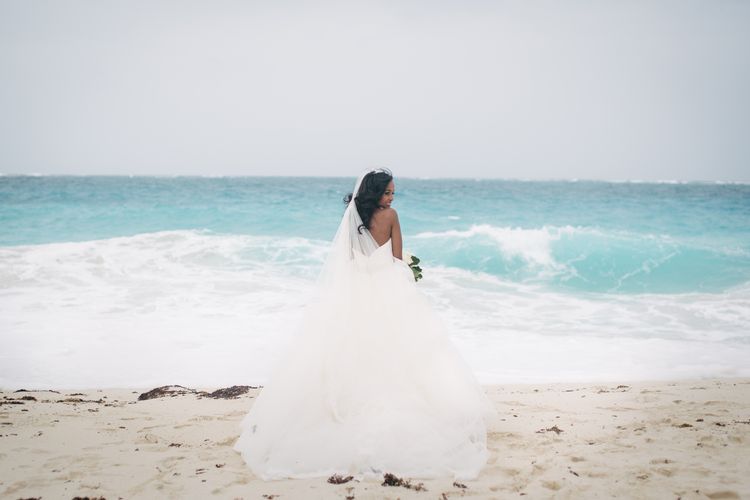 Some people may consider it to inappropriate and way too revealing. However when everything is set out in correct way and arranges rightly and meticulously, as well as professionally and with a sufficient amount of taste any wedding theme and whereabouts will be able to play right and help newlyweds stand out from the crowd, as well as heaps of commonplace weddings containing nothing new and fresh. What is more, when you have a photographer you will gladly rely on and entrust your memories of your very fest family day to, you will definitely obtain mouth dropping and enchanting photos flooded with sincere emotions, candid smiles and majestic glances. In addition to that, having found just the right family photo editing you will have the best-of-both-worlds situation. You bikini wedding photos will for sure seize your quests for hours and hours. If so, why not trying a beach wedding, right?
Weddings on the beach
If you choose to arrange a beach wedding, be prepared to work hard on it. It's no easy to throw a perfect wedding ceremony in any case, there is no doubt in that. Nevertheless, when it come to trying out something new and doing something out of the ordinary range of things, the work is usually doubled, especially if you aspire to obtain satisfying and prolific results. It isn't enough just to have a tremendous desire and wait for best results to come, that's clear enough. Beach weddings can be a humongous headache. Therefore, we recommend, that you should hire a wedding planner for you to be sure that someone will see to it that all the little details are settled and sticky saturations are handled. Anything can pop out unexpectedly and everyone can you some extra help in such a case. One more thing to keep in mind about weddings on a beach is that one should always choose the right time. It may be a bearable thing for you to stray hours in the sun. Nevertheless, heat is not for everyone, especially as far as elder people and children are concerns. Hence, it's advisable that you arrange you wedding ceremony in the morning or at sunset when it's pleasantly cool. In case it is impossible to arrange so, even an afternoon beach wedding ceremony may be done, but make sure in is located in a shady spot. Besides, it's preferable to chook the weather forecast and be prepared accordingly (although always have a backup plan at hand), as well as inform you guest beforehand about the appropriate wedding dress-code. Thus, you'll leapfrog lots of problems and hiccups on your way.
As far as beach wedding photos are concerned, in order to get some of the Best contemporary wedding photos in the world, it's definitely not enough just to rely on some of the most popular Beach Wedding Photography Ideas. It's exceedingly important to choose the right photography professional who is aware of necessary techniques which are handy for an outdoor beach photo session. If you have a professional at your disposal whom you are totally sire of, a successful beach wedding photo session is done. This person will have no problems with How to choose the right background for wedding shots, will have a perfect Collection of must-have poses for weddings for your particular event, as well as will be flexible and helpful throughout the whole process. However, you should do your part as well. Be playful, loosen up, use your beautiful surrounding and extraordinary wedding theme to the fullest. It's always a win-win situation when it's not only the professional who does his part, but also the newlyweds who show their sincere emotions and sensations, are not afraid to get intimate and candid, show their true selves. Such photo images always turn out to be absolute timeless bombs! Besides, the right wedding photo editing service and skillful bikini photo editing can help you create even better versions of such photos and make them even more valuable. The right bikini editor can make you look absolutely flawless, just like Professional Photo Retouching Bikini Models do, as well as apply some of the latest photo editing trends. For instance, have you seen our article New Generation of Bridal Black & White Photo Editing on our retouching blog? You may have the same mesmerizing shots having seen to it that the right person will do your wedding black and white photo editing.
Best wedding destinations to have a "bikini wedding"
You might have already seen our article Destination Wedding Photography - What Is The Best Place To Shoot Wedding. This one covers the topic quite in a full way, although it was quite impossible to state all the enchanting places on this planet which can be appropriate for your dream wedding. Besides, many men many minds, as you know. Therefore, not all the places seem to be charming and special for every couple. Nevertheless, here are some more wedding destinations which seem to be absolutely perfect for a bikini beach photo sessions and ceremonies and may be your dream venue for your wedding day.
Atlantis Paradise Island in the Bahamas
If you think that perfectly fascinating backdrops are impossible and that there is no way you can do without intricate photo culling services or an accurate clipping path service for entrancing beach wedding photos, then you haven't been to Atlantis Paradise Island. This place is absolutely amazing and utterly resplendent! There are heaps of beautiful beaches and picturesque snuggly corners for making exquisite wedding photos. A wedding ceremony in this little paradise may turn out to be a vacation for all of the guests and newlyweds as well. There is a wide range of activities for people of all ages starting from sandy bays, gripping waterfalls and enchanting lagoons with amazing marine animals to immense Mandra spa for a complete tranquil relaxation. Besides, Atlantis Paradise Island is perfect for an evening wedding ceremony with beautiful glaring sunsets and cool breezes.
Costalegre, Jalisco, Mexico
This exceedingly charming place on Mexico's Pacific coast is just a mere bomb! In case you dream of a magical beach wedding night under twinkling stars with roast marshmallows and real Mexican coffee with cognac, o even if you aspire to have a big loud wedding party on a hot and exquisite sandy beach, this place can offer it all to you right away. On e of the most luxurious and best places there to stay is Las Alamandas with a breathtaking interior which combines beautiful shades of turquoise, fuchsia and orange. Sounds juicy, right? Located South of Puerto Vallarta this place is so exclusive and chic that it also has its own landing strip for private planes, its not even mentioning all the beauty of torch light gardens and restaurants which are absolutely perfect for a majestic wedding dinner, don't you think? And just imagine what mesmerizing beach wedding photo session you can have in this paradise! We bet such a wedding day will be always remembered and stuck in your quests' minds for quite a time.
Hayman Island
If you wish to combine beautiful beach wedding ceremony and a bikini wedding photo session with enthralling water activities in between, than you need to come to Australia, to the beautiful Hayman Island. There you will have a once-in-the-lifetime opportunity to get married on warm sandy beaches observing the largest barer reef with all of its unique and engrossing beauty. This beautiful place can provide you with lots of opportunities and possibilities for amazing bikini wedding photo session which your professional bikini editor will have no problems but only pleasure at touching up, for sure. What is more, you may incorporate those water activities to you beach photo session and get amazing professional photo montage of you scuba diving or snorkeling.
Sea Island
Southern Georgia coast can offer you a lot of opportunities for you perfect beach wedding ceremony. The most important thing here is a beautiful five-mile stretch sandy beach which will be an absolutely gorgeous for you bikini wedding photo session, be sure of it. In case you wish to switch you wedding photography style there are lots of lush gardens, as well as serene lawn that are shaded by 80-yer-old or even more beautiful oak trees, enchanting Cloister Chapel with a magnificent exterior and other pretty things among tall sea grass and rustling swaying palms. We bet that not only can you have the time of your life and a perfect beach wedding ceremony there, but also have a possibility to capture sincere emotions on mesmerizing backdrops for you beautiful wedding album.
Spice Island
If you have been looking for some wedding venue off the beaten track for quite a long period of time but for some reason haven't found one yet, you should consider choosing the Spice Island – one of the most fascinating and lush Caribbean islands. And if you wish to add a bit of Italian flavor to you your exquisite beach wedding than LaLuna resort there is just perfect for you. Imagine saying you vows on a picturesque and calm sandy beach with a beautiful coconut palm arch, then sipping best wine sorts from real Italian cellars, treating you wedding guests with delicious dinner of Italian specialties… It sounds tempting, doesn't it? This place can become you real wedding paradise you have been dreaming so desperately!
The most extraordinary and amazing professional photo retouching bikini model
Not everyone will venture right away to have a bikini wedding photo session or even a bikini wedding ceremony. Nevertheless, those who do dare try out something new and arrange it in a correct way have a splendid opportunity to stand out from the crowd and stir people's imagination with their fabulous photos. For instance, the Victoria's Secrets model Isabeli Fontana wasn't apparently afraid of such a brave idea as a bikini beach wedding ceremony. Having looked at her beach wedding photos you will definitely agree with us with quite an ease. Her photos are a perfect specimen of Professional Photo Retouching Bikini Model. Just look how perfect her wedding bikini suits her bombshell body and how perfectly harmonically it all looks together. She definitely didn't miss with her decision to try out a bikini wedding ceremony.
Here you can see another charming example of intricate photography work which proves that a bikini wedding photo session done in a correct and skilful way may look absolutely gorgeous and not at all too revealing. Besides, the woman bikini photo editor who has applied his magical hand to this photo has apparently done a great job since this happy bride looks extremely gorgeous and lovely.
Did you want to see another example of humble kind of wedding bikini? If you still don't believe that there isn't such variant for you to wear and still stay quite conventional and confidante at the same time, just look at this gorgeous picture. The beauty of this bride is beyond any words as well as her garments. Everything looks splendid and harmonious. What is more, bikini photo editing of this shot is worth attention as well. WE absolutely love the impeccable skin retouching job of this photo image. It looks as if nothing had been even applied, but still perfect.
This picture is an example of a more revealing and intimate kind of bikini wedding photography. It may not be for everybody, but still some couples may find it a perfect wedding present for each other. What can be better than a beautiful water expanse in the background or a paradise beach together with you loved one in the full glory? Perhaps, only perfect photo retouching of a woman bikini photo editor produces in the most professional way, just like in this bikini wedding bridal shot.
What do bikini photo editing techniques include?
Some people may rack their brains over the question: Lightroom or Capture One Pro: what is better for wedding photo editing? Others may ruminate on how to apply the most efficient kind of bikini wedding photo editing. Well, the long and short of it, since bikini wedding photo session presuppose a great deal of skin exposure, skin retouching should be one of the primary focus points in order for wedding pictures to turn out to be absolutely perfect. Besides, it is advisable to include all the basics like light and shadow balance, color correction, exposure and all that good staff we talk a lot on our retouching blog. Basically, it all depends on the style of editing you would like to apply as well, since some like the basics and some people would like to see some drastic photo montage results, for example.
When it comes to Wedding photo post processing – How not to spend tons of hours is a usual question. And our photo retouching company knows the answer, which is to find the right wedding photography post processing services. We are aware how important that is to offer our clients the most perfect and impeccable body retouch and professional portrait retouching services for them to obtain the greatest bikini beach wedding photos. Our highly professional photo editors do their work conscientiously and always try to meet all of the demands possible working with all of the retouching levels. We charge only reasonable photo retouching prices for their professional work which allows you to get as many photos touched up as you wish. Besides, you may have a look at our photo retouch before and after examples in our photo retouching portfolio, as well as on our photo retouching prices and get ensured that our photo retouching company is trustworthy and reliable. We are always happy to offer our professional services and help your with making your photos even more mesmerizing and impeccable!
You are welcome to post your comments.
Post comment via your Facebook account