Blog
Eco Friendly Wedding – The Power of Zero-Waste Weddings
The world is going eco. That is the latest mainstream trend – trying to get back to the origins, finding peace with the surrounding world, intending to balance things out and to have Mother Nature as your close friend. "Why not organize an eco-friendly wedding then?" – started to ponder nature enthusiast.
The world is going eco. That is the latest mainstream trend – trying to get back to the origins, finding peace with the surrounding world, intending to balance things out and to have Mother Nature as your close friend. "Why not organize an eco-friendly wedding then?" – started to ponder nature enthusiast. And they surely did ask themselves a correct question. Weddings may cause so many losses and nature damages if you thing about it harder.
All of the preparations, big element and tiny details, celebrations and so on and so worth may not only require event planners to work their fingers to the bone, but they can also require using a lot of materials and wedding items which can, in fact, be harmful for our surrounding world. Not all people tend to ruminate on how their actions turn out to influence nature.
However, there are still such people who keep satiating their needs and wishes in a mindful kind of way. Such people raise public awareness about how important it is to be eco-friendly.
The more wisely we behave towards our surrounding, the better it responds to us. Since many people already has taken up the idea that nature, alas, is not an endless source for satisfying human needs, an eco-wedding has not been something new lately. As usual, it all started with a couple of enthusiasts who wanted to get the message across.
As experience proves, when the idea is effective, it will eventually chain others. And so it happened. It is so much easier to have a zero-waste wedding (not mentioning the fact that an eco-friendly wedding can be even cheaper than a traditional one, if you go an extra mile for it, of course) in so many aspects.
Naturally enough, tastes differ and some people may strictly uphold only the idea of a traditional wedding. Nevertheless, time changes, and so should our mindsets. When you work together with Mother Nature for the sake of a beautiful wedding day, there isn't really much to worry about rather than about your wedding photo session and wedding photo editing service. That is what the couple from the video "Portland Couple Plans Dream Eco-friendly Wedding on a Budget thought. And they surely did not regret the choice.
Eco-friendly wedding ideas
When keeping things natural, one may always come to the best results. People erroneously tend to think that planning an eco-friendly wedding is a humongous challenge. But there is an uncountable amount of eco-friendly wedding ideas lying out there, right in front of our noses. The only thing we have to do is to look around and try to spot thongs that we usually take for granted. And here you are – you already have half of the eco-friendly wedding ideas you need for your dream wedding (which will in no way do harm to the surrounding world and will look absolutely charming, by the way).
It is absolutely possible to throw an eco-wedding party using green materials, starting from wedding décor and ending with such trifles as wedding invitations and eco-friendly wedding favors for your beloved quests. If you still think that eco-friendly wedding ideas are of high maintenance, listen to the story of this happy couple as well. Follow the link to the video "Our Green Wedding | eco-friendly, budget-friendly & DIY and get ensured that an eco-friendly wedding is for reals a beguiling idea.
Some people find it joyful to arrange and prepare events, get things done, mix and match elements of décor and so on and so forth. That is the reason why some brides tend to do everything on their own. They consider wedding planning to be a piece of cake, notwithstanding the fact that it may be quite stressful to make sure everything is done. Such brides-to-be are even capable of finding family photo editing on their own. On the other hand, there are people who feel under pressure right away as soon as they only think they have to plan something, especially something that important as their own wedding.
There is always an option to customize your event, to do everything on your own and obtain that grad feeling of accomplishment and self-satisfaction for achieving what you have been wishing for. However, there is also an option to get those eco-friendly wedding ideas done for you by professional event managers and vendors. If you feel at a loss being surrounded by such a rich multitude of eco-friendly wedding ideas (or being baffled by having none of them while aspiring to have an alluring eco-friendly wedding) you may use some extra help. As some of the event planners say in the video "How to Throw an Eco-Friendly Wedding | Perfect Wedding, you can easily find those people who are able to go an extra mile to give you the eco wedding of your dream. However, if you still wish to get everything done on you own and to save some money on your honeymoon this way, feel free to use these eco-friendly wedding ideas.
Eco wedding invitations
You know what a huge problem forest destruction is. Why using paper wedding invitations then? In the digital age it is even so much easier to send wedding invitations via mail or any social media. And in this way, they turn out to be eco wedding invitations, since a single tree won't be cut for this purpose. What is more, you can create any kind of invitation design with the help of numerous apps and programs existing nowadays. Your imagination is the limit in this case. Or you may also hire professional graphic designers who will concoct something special and out of this world for you.
The plus is that you won't have to puzzle your brains about sending your eco wedding invitations. Several clicks and everything is done for you. In case you want to go old-school and send paper invitations and still want them be eco wedding invitations, you may make use of recycle paper as well and still be "green". What is more, some companies even produce paper that can be planted! Isn't that amazing? Instead of throwing wedding invitation to the trash bin, your quests may plant in their gardens, for instance, and boost the oxygen level with you eco wedding invitations this way. A fun idea it is, isn't it? If you want to see a real example of such an invitation to a wedding, follow the link to the YouTube video "My Zero Waste Wedding // Eco Wedding Invitations, where a bride tells about her own experience of creating eco wedding invitations on her own.
Eco wedding venues
There is, actually, a wide-ranged choice when it comes to eco-friendly wedding venues. For instance, beach weddings what we have already discussed in the article "Beach Wedding Photography Ideas". If you wish to have your wedding on a sea coast or near an ocean, make sure to have a look at the article to find some useful tips for beach wedding photography. Anyway, we guess that beach wedding are everywhere right now. You should definitely try some new wedding venues for your eco-friendly wedding, if you want to stand out of the crowd. We guess, that a river side wedding is an excellent alternative.
And in general. Having a wedding outdoor is a great idea if you want to go green. There is always a plenty of sunlight outdoors so you can save a pretty good amount of energy. Above that all, if you host both your wedding ceremony and wedding parties in one place, in one venue, it save s a lot of fuel and time as well, since you don't have to move from place to place. And who would want to, having got to a beautiful wedding destination where you feel close to nature and with your mind at peace? Therefore, having a river side wedding seems like a good idea now. Don't you think so? Here is an example of wedding venues in Los Angeles – AFFORDABLE WEDDING VENUES IN LOS ANGELES WITH ECO FRIENDLY CREATIVE WEDDING THEMES.
Depending on your location or budget, you may make a river side wedding of you dream, without regretting that you are not on a mainstream beach right now. Riverside weddings offer some more mysteriousness, majestic and peaceful atmosphere of tranquility and snug seclusion. Riverside weddings, unlike beach ones, are not that pompous somehow. They tend to look a bit cozier or something. Riverside weddings just look a bit more chic, elegant, with a vintage and boho vibe to them. That is what it means to work with Mother Nature shoulder to shoulder.
The great thing about riverside weddings is that you can upgrade the given atmosphere by means of you wedding theme and proper decorations, of course. It all depends on you, without any doubt. If you feel like making a peaceful, mallow and romantic atmosphere – go for it. If you fell a bit more adventures, playful and quizzical – you have a lot to work with on such venues as rivers and lakes. Besides, don't forget about alluring vineyards, botanical gardens and forests and mountain sides. They are fabulous variants if you do not have a n opportunity to throw a wedding party near a water body (or simply don't want to). Your variants for enjoying nature are, basically, limitless.
Eco wedding décor
Going green does not mean you will not be able to get beautiful decorations. It just doesn't mean you have to ruin tons of beautiful flowers for the sake of one evening. There are plenty of others ways to decorate the wedding scene and still be green. For instance, pot flowers. Don't think about cacti right away, they are not the only greens that you see in a pot. Those may be roses, peonies, orchids and whatever flowers you want. Nevertheless, when you choose to stay for you wedding parties outside the whole time, there isn't much to worry about.
If you have chosen the right wedding venue for yourself, then the biggest part is already done for you. And when it comes to the bride's bouquet, it is better to choose local flowers from your local farmers. Just make sure that they were grown out in the most natural way. Just keep in touch with you florist and communicate, if you want to have flowers as your wedding bouquet that much. If you are worried that that beautiful innocent bouquet will die sooner or later and will be tossed away soon after the wedding, use alternatives. For instance, a broche wedding bouquet – timeless and may be even saved for years as one more talisman to remember your wedding by.
Eco wedding table
By the way, wedding catering can also be eco-friendly. The same thing as with the bride's bouquet, actually. You will just have to make sure that the products are local, produced by your local farmers. They tend to be more natural than those bought in supermarkets. Besides, no additional fuel is used for local products transportation, since they were grown in your area. So, plus one to the clear are this way. And the biggest plus – natural and organic products just taste better. Your guests will be definitely satisfied.
Eco-friendly wedding dress
Being eco-friendly also means to get an appropriate wedding dress – from natural materials and done in a way that didn't harm nature. The best variant in this case is, of course, an organic cotton wedding dress. You may find quite a number of wedding dresses designers who tend to be eco-friendly and who can make an organic cotton wedding dress that you dream about. Just like this designer featured in the YouTube video "KCL - Eco Friendly Wedding Dresses.
Not only does she employ only natural materials, she also designs amazingly mesmerizing dresses, just see for yourself. As other variants to an organic cotton wedding dress there may be dresses form hemp or silk. Therese three materials are, basically, the best and feels most pleasantly on your skin. Thus, you will definitely feel comfortable and won't worry that you will get a rash or something after a long day of wearing a synthetic dress while being under stress. One more option is to use a vintage wedding dress made of natural materials. This may even be your mom's or your granny's wedding dress. It can be altered the way you want but it still will be made of a great organic material (plus there will be definitely only one dress of such kind). Eco-friendly and unique - that is a hot combo.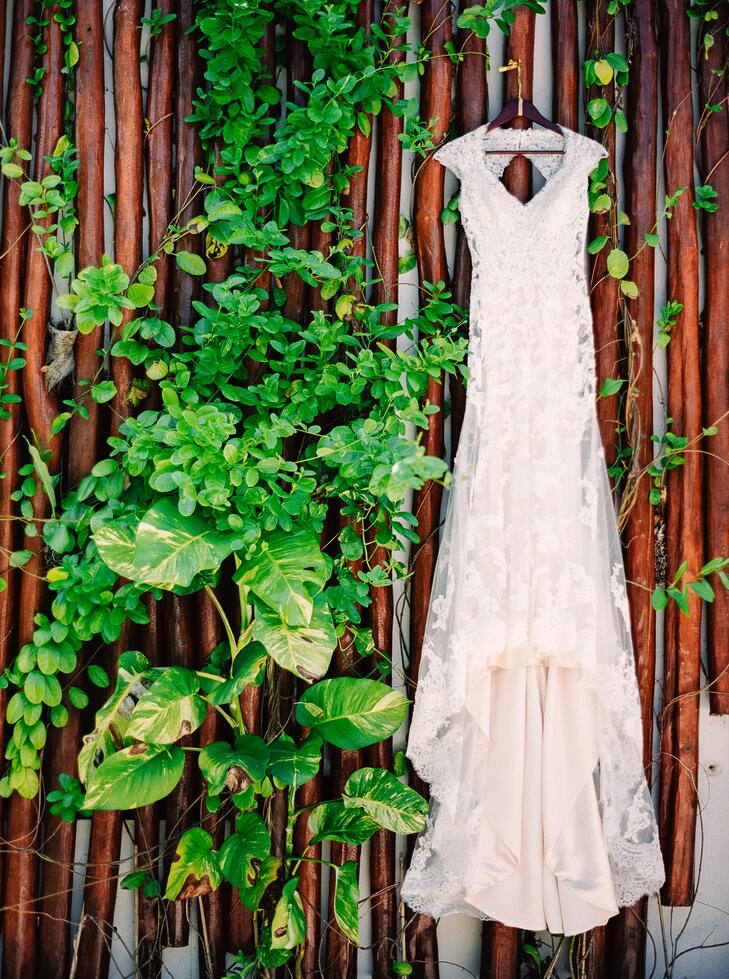 Eco-friendly wedding photography
When the wedding is planned and all of the little details are thought over, there is only one thing left – your long-awaited wedding photo session. When you have a splendid venue that you adore, natural photo scenes will do just wonders to your wedding photo session. Make sure to use a wedding photographer that you like the most and feels like you and who can capture your precious moments the way you like them to. After that, communication is the key.
In case you want to get prepared with a Collection of must-have poses for weddings, make sure to read about it as well as about Theme wedding aesthetics - only unique wedding photography poses. It will give you and you wedding photographer some more ideas when you feel like posing and not just capturing moments. Although as showcased in the article "New Generation of Bridal Black & White Photo Editing", candid photos and sincerity is the golden key to timeless and mesmerizing photos. And when all of the above is set, then the rest comes with wedding photography post processing services.
Wedding are amazing moments for every couple. Those treasure moments should be captured and retouched in the best way possible. Everyone wants to look at their best moments and feel their souls with happiness and peace, returning in their minds to those joyful and delightful times. Our retouching company at Wedding-retouching treasures every order we have and honor every single client with ample attention and conscientious photo editing job. Our high photo retouching rates are a good evidence of this fact, since more and more happy couples and professional photographers tend to trust us with their wedding photos.
Our professional team knows the deal and is skilled, as well as experienced enough to make a nice retouching job of a good quality in a short time. Just have a look at our photo retouch before and after example and make sure that we indeed offer a quality wedding photo retouching, trying to satisfy the demands of every single client of ours. We desperately hope that this article was of any use to you personally and that our professional wedding photo editors will satisfy your aesthetic needs as well with their professional job!
You are welcome to post your comments.
Post comment via your Facebook account