Blog
Olive green wedding color trend in 2017
In this article we are going to think over about the choice of olive green wedding as a symbol of uniqueness and wealth.
Olive green wedding color on photos after wedding photography post processing services continues conquering more and more hearts of couples all over the world, but why and what is the key of this success? Nowadays a lot of modern couples that dream about organizing an awesome and definitely unforgettable wedding face one problem. And that is the right choice of color that will become the basis for decorating. If not to bring into consideration wedding colors that have already become traditional, if not to say stereotyped, like blue, red and yellow, couples are usually at loss about choosing the right tone. Thus, in this article we are going to think over about the choice of olive green wedding as a symbol of uniqueness and wealth.
As olive green and gold weddings have already become quite wide-spread and popular, this topic is much to speak about. Definitely, among leading wedding colors in this style is olive. Thus, you will be presented with the most appealing wedding ideas that have based on this coloring. Additionally, we are going to take into consideration the most chosen wedding styles, especially rustic style, in which green and olive are fundamental. You will be impressed by the amazing variety of possible styles. Then, we will focus on bridesmaids as they are also an important part of celebration. Certainly our collection of olive colored bridesmaid dresses will not leave you indifferent. Still, all these topics are interconnected from the point of photographers` view. Every of the descried elements require different knowledge of photo shooting. For you to get down to this unbelievable atmosphere, we proffer the video full of awesome pictures taken from versatile weddings with olive and green coloring. We hope that these photos will inspire you to organize your own photo shootings.
Green wedding ideas – something you do not know
At least some years ago green and even more olive were not in the list of the most elegant wedding colors. It was believed to be rather hard to be combined with other colors and tones. It was almost impossible to find flowers for bridal bouquets or boutonnieres. Thereafter, lots of couples tended to avoid using green wedding ideas being quite afraid of them. Years ago green wedding style was associated with outsiders and misfits. Most people also tended to think that green color was a symbol of eco-friendly wedding. To know more about the topic read Eco Friendly Wedding – The Power of Zero-Waste Weddings. Fortunately, these days the sad situation has completely changed to the favor of green color and its sub-tones.
Today professional wedding organizations consider green to be quite flexible and universal. Thus, it is able to suit really to all seasons and become a successful combination with any other chosen colors. In most cases it is added to weddings ceremonies that are hold according to particular styles as boho, outdoor or earthy natured.
First of all, green wedding ideas with leading tones are divided into seasons. Obviously every season has the most successful tones that may be combined with natural landscapes that are ground for potential photo sessions. To illustrate this particular idea, spring months that are full of blossom and fragrance look appealing with pastel or sage green tones.
Summer landscapes are brilliantly captured on photography in concert bright green and elegant ivory. For this brilliant idea to be proved, read The best summer wedding pictures made in June and get amazed how does green color may underline the beauty of summer nature. Autumn season is the richest concerning colorings. The prevalence of yellow, red and brown is so powerful that additional bright colors will not be the best decision. Therefore, designers mainly use light green or olive tones in order to complete the final picture.
Still, the most winning season for organizing olive green wedding is winter. During this period royal deep green and sparkling emerald are in use. That creates a really gorgeous and rich look.
Additionally, weddings in green coloring may be devoted to various holidays. And sure thing the first holly day that comes to our mind is St. Patrick`s day. This special day has the special green tone that can be easily recognized. In order to support the styling designers usually add varied color accents. The most popular are green stems, stripes and succulents.
For the bravest brides designers proffer choosing wedding dress with emerald green accents. It is not necessary for a bride to buy the totally green dress, although on photography that will look quite unusual. Bride may have only some details that will be of this coloring. For example, shoes that will become the punch line of photos you make.
Often photographers try to capture some small details in bride`s hair style and make a separate picture. Still, this tendency is going to decline, as there are many more photo ideas.
Or photo makers tend to make photos of wedding bouquets, making it the central object on an image.
In order to continue the selected atmosphere romantic candles, menu cards, chair sashes or napkins are added.
Surely, all of them are in the same toning. Among the recently established trends using favor boxes to greet welcomed guests at their tables are quite popular.
For couples, that are eager to have emerald color in all details in order to enjoy the completed atmosphere of wedding, contemporary designers widely proffer to decorate wedding cakes with the help of green details that in combination with white flowers look gorgeous.
Some couples may choose to have a totally green cake with the decoration of other colors. In case there is no desire to have the one big wedding cake, rather popular is offering small cakes for each guest. This trick is especially liked by photographers. You should understand that such bright and eye-catching details look rather interesting on final photos, especially after being enhanced by wedding photo editing service.
Most elegant wedding colors in 2016 – right coloring solves everything
Judging from the presented wonderful pictures as well as from the discussed ideas, you know that there are so many things to be immediately captured by the lances of your professional camera. Still, you should not think that if the leading color of a wedding is green or some of its close variations, then there will not be any other colors. That is a complete nonsense, as for olive green wedding color to be successful and effectual there should be other tones in order to emphasize its beauty. For example, during the year 2016 the most popular were olive green and gold weddings. Still, these colors are not the only concerning the most elegant wedding colors. Therefore, we will show you the most liked wedding color combination that will turn every wedding photo session from the tedious work into the extravaganza of perfect taste, elegance and brightness.
The first color combination that opens our list of the most unique and appealing color palette is emerald, cream and gold. We have already mentioned about the duet of green and gold with the idea that it is a little bit old-fashioned. Still, the third color, although being quite pale brings amazing freshness to wedding decor and photo sessions.
That is so, in case you are fond of olive green and gold weddings, add the third color and enjoy your uniqueness. Usually, this combination works like that. Tablecloth is cream and the hall is decorated with garlands consisting of green and white flowers. Gold is usually used in clothing decoration. Do not hesitate that you will have enough space for shooting creativity.
The next combination is black, pale green and white. It is slightly similar to the first one, but still here the leading green color is not is bright and instead of powerful gold, designers use black elements. For you, as for photographers there is one difficulty concerning this choice of wedding tones.
In case on photos will be too much black, you risk achieving depressed pictures. In order not to do that, try to use in pictures as many pale green elements, for instance succulents, as possible.
Such natural coloring will prompt you to organize outdoor shooting in order to depict the unity of nature and love.
Then comes merlot, peach and sage combination. The main peculiarity is that unlike other green wedding ideas, here green does not play the central role. It is only a helping color that underlines the undisputed beauty of the first two.
Still, these most elegant wedding colors are so appealing that we cannot but have added this combination to our list. Especially gorgeous these tones look on photo retouch before and after. It is for those couples that are fond of shabby chic and closeness to earth. Thus, be ready that on wedding there will be too many wooden elements, not luxury lounge space and other details that must be captured on pictures. And your task is to think over how to do that.
Then we have gold, green and peach amalgamation. This mix looks ideal during outdoor photo sessions.
Even indoor photo shootings look, as if it they are taken in natural surroundings. Mother Nature thanks a lot for giving her the central role and choosing an olive green wedding that plays perfectly with such bright tones as peach or gold.
The next fresh wedding mix is celadon, poppy and white. Definitely this colorful unity is not widely used. Therefore, it is not a perpetuated old-fashioned tendency. On the contrary, this mix suits those couples that are not afraid to risk and to choose something out of box.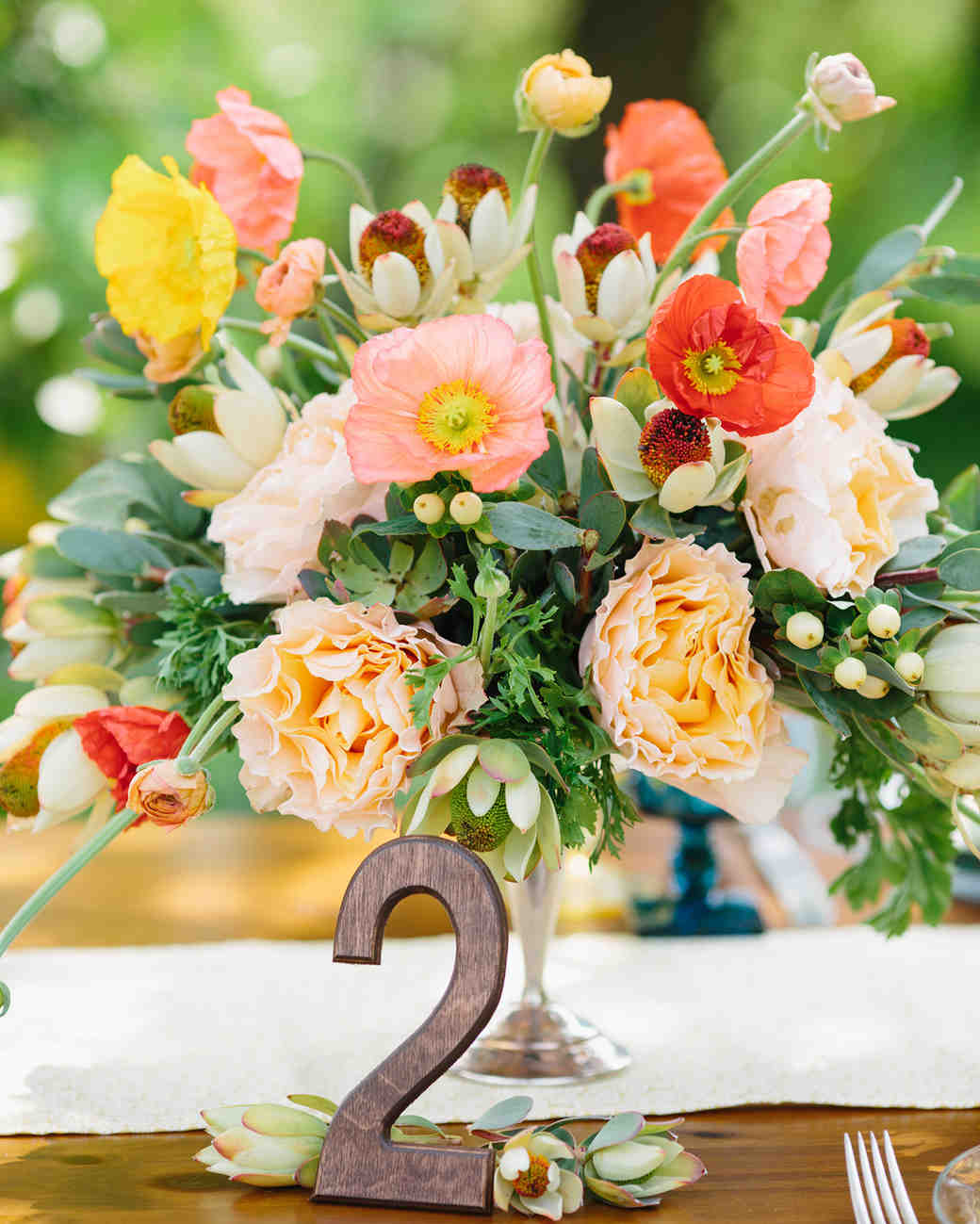 The most interesting is that celadon and white are completely natural and pale colors. Still, do not be afraid that wedding photos will be dull. Everything is balanced with stand-out poppy color. Besides, the combination is mostly used for beach photo sessions.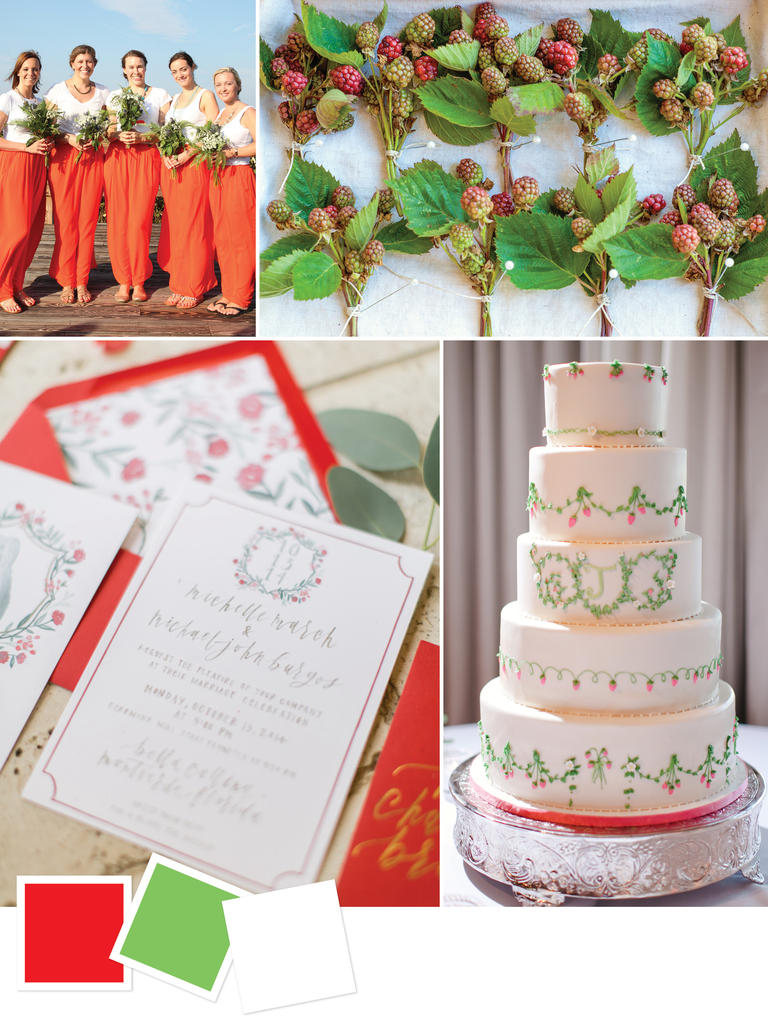 The last is the mix of sage, ivory and gold. That is the less bright combination and this fact makes it the most universal. Thus, it suits perfectly both for outdoor and indoor photo shootings, because of absence of too eye-catching elements, as for instance a wedding dress with emerald green accents.
Still, notice that the beauty of combination can be spoilt by additional dark tone, so avoid them while making wedding photography always find a light backdrop.
Olive green wedding color in rustic style
Wedding in green coloring can be organized on the dependence with a certain style that will dictate its own rules in decorating, dress-code and photographing. In case of following them and not making a mass out from several non-combined styles that instead of bringing beauty, cause complete chaos. Thus, the most successful are one-style weddings.
Today we would like to draw your attention to rustic wedding style that is based on olive coloring. The style has an additional name, which is a farm wedding style. That is a special branch of rustic wedding type.
The plus of this style is that it will look superb during any season, because of its simplicity, natural character and country-inspired look.
Weddings in the rustic style, despite the seemed simplicity of decoration or styling, are unusual, fashionable and stylish. In addition, the natural rural surroundings make it possible to create a touching and romantic atmosphere of the ceremony. Besides, pictures of present guests look quite appealing, especially after family photo editing.
There are several main principles of modern wedding in the style of rustic are naturalness, simplicity and comfort. These categories serve to emphasize sincere emotions that happen between a bride and a groom. To achieve this effect designers make usage of varied natural materials for instance wood, field flowers, hay, burlap, chintz, linen, moss, ect. All materials conform to the principle of "grandmother's inventory".
Another component that helps in creating rustic style is natural tones, such as green, cream, sand, brown, blue, blue, white. On the background of such light colors all emotions and movements become more visible.
Concerning the location, there are also certain tendencies. Ideally a celebration should be hold outdoors. Among the variants that are suitable for the style we may name a bank of a river, a spectacular forest glade or a field with haystacks. If a wedding is scheduled during the cold season, or you want to spend a holiday out of nature, it can be arranged indoors. It will be beneficial to choose terraces of restaurants or cottages in country style. They should be without extra shine and pomposity.
The central role is occupied by an arch for outdoor registration. We will proffer several variants of decorating them. Firstly, on photos arch made of wooden beam or branches decorated with field flowers or lace will be a center of attention.
Old doors also look unusual on images.
The most interesting idea will be to use an old tree instead of an arch. It can be decorated with field flowers, stripes and openwork rustic lace.
Olive colored bridesmaid dresses
Often bridesmaids are forgotten. Still, it is not fair to do that, as that is a perfect filed for making gorgeous photography. There are two main strategies in successful shooting of bridesmaids. The first is to when they occupy the whole photography and are captured without a bride. Here you may choose whether to shoot one bridesmaid or a group of them. A photo will be quite stylish due to olive colored bridesmaid dresses. The main idea is that they are dressed in one color.
The second variant is to make pictures of a bride and her maids together. For example if a bride has wedding dress with emerald green accents and bridesmaids have the same elements on their clothing or the color of their dresses corresponds to the color of elements, you will get wonderful photos. Here colors will play instead of you. Therefore, you will not have to ruminate about professional posing.
In order for you not to have a stereotype that bridesmaids always look worse than a bride, as she is the star of the whole ceremony, watch this video and get amazed how awesome their clothing may be. Who knows, maybe these rich materials, superb colors and stylish fashion ideas will inspire you to make photography masterpieces.
Always having olive colored bridesmaid dresses is a cool idea to start a color-based wedding. But still, even having splendid colors and gorgeous details does not guarantee getting amazing wedding album. Thus, without editing everything will be wasted. For this occasion, use our services and have your time economized at photo retouching rates that are lower than average. Definitely we know what contemporary photo makers require and how editing should be carried out.
You are welcome to post your comments.
Post comment via your Facebook account