Blog
The main maternity photography tips for future mom and pregnancy photo editors
We have prepared maternity photography tips for mom and the photographer. After all, it's not just all the paraphernalia and equipment. It is important that the model and the photographer actively interact with each other. How could you make your photo easy and unenforceable? We'll tell you more about this today.
Pregnancy is a condition that is very warm and light, as each woman is changed during pregnancy: she wants to be a little nicer, a little genuine, more feminine, gentle, because she's in the anticipation of a miracle-the appearance of a little human in her life. This is the most beautiful period after wedding. It is always very hard to find good wedding photo editing service and maternity photo editing service.
Every woman wants to keep her important life-pregnancy-not only in memory but also in photographs. It is not uncommon for girls to hire professional photographers to organize a real photo shoot. The ideas for a photo session of a pregnant woman can be completely different, depending on the wishes of the pregnant, season, the plans of the photographer. It is important that the photo shoot brings some joy, positive emotions to the participants, and that it will make beautiful images. But you can always turn to the pregnancy photo editor if there are some unsuccessful photos.
We have prepared maternity photography tips for mom and the photographer. After all, it's not just all the paraphernalia and equipment. It is important that the model and the photographer actively interact with each other. How could you make your photo easy and unenforceable? We'll tell you more about this today.
Pregnant women Survey Tips
Speaking of making and editing maternity photos, I think most of you have a picture of a woman holding their stomach, or a photograph in which a man and a woman have their hands depicting a heart with a navel in the center. There are so many such pictures that they have already eaten into our memories and become some kind of pattern of what to do to make photographs a pregnant woman. Of course, there's nothing wrong with this picture, which is really nice.
You can take pictures of pregnant women in a different way, and you can approach photographs creatively, with their fresh and original ideas. Many photographers often use wedding photography post processing services for improving their photos.
1. Step outside
Too often the pregnant woman's photo shoot is held at the studio. The reasons for this are somewhat unclear. Yes, studio photos can be orderly better in quality, because of good lighting, and specially prepared for photography and after such photo shoots you don't need to spend much time on editing maternity photos. But what could be better than taking a future mother in the nature, where she, the new life in the world, is walking in the fresh air.
2. Shoot at home
As you make your future mom in her own home, you make beautiful pictures of the life she was before the baby was born. A photo shoot at home, a beautiful option for a pregnant woman to make a photograph. The family feels confident and comfortable, and the woman is completely relaxed and calm. Your task, as a photographer, is to take good pictures in all circumstances, but where you can make the shooting process so pleasant.
3. Do not clutter up photos
No matter where you make photograph: at home, in the street, at the studio, make your photos simple and easy to understand, and don't complicate them with extra elements. Make the frame speak for itself, emphasizing the emergence of a future miracle. See that nothing has distracted the woman and her future baby, be careful with the background, it should not be believed by extraneous elements.
4. Help woman to feel beautiful
Women tend to cease to be attractive in time of pregnancy, which makes her a little uncertain and tense. Try to position a woman in a way that she feels beautiful, attractive, feminine. You have to be careful not to hurt her feelings. Before shooting you should give some maternity photography tips for mom. If you're man, you'd better be doubly careful, think about what you say and weigh every word that you might not understand correctly. Tell to the future mother that she looks beautiful, that motherhood is to her face, and that she's very photogenic and good at photography.
5. Show relationships
The child is born in love and harmony. Try to show with your photos the kind and respectful relationship between parents. Caress, affection, love, all these feelings will look wonderful in the photograph, and in the future, the kid will know how much his parents love each other, and how much they've waited for him to appear.
6. Don't forget other family members
Remember, a child comes into a strengthen family, it appears in a new small world where there may be other people. If there are children, brothers and sisters of the future baby, ask them to take a picture with their parents. Furthermore, if your family has pets, don't forget to make a few frames with them. These pictures always look very warm and family-like. It is always a good idea for family photo editing
Select the location for a pregnant woman
Select the place of the photo session of the pregnant woman simply, but often the choice depends on some factors: the pregnancy, the specific concept of the photo session. Also, the choice of location depends on the genre, the format of the photo session, the style, the image of the pregnant woman. Try to make some creative photos for better editing maternity photos.
1. In the studio
Photo Studio is considered a popular venue for the photo session for pregnant women.
The advantages of this choice are:
- No one will bother you.
- Adverse weather conditions will not be able to spoil photography.
- At hand all the necessary attributes, accessories.
- The room is always warm, so it's possible to have a deal tummy without worrying.
- You can implement any ideas here.
The studio always has the necessary, high-quality lighting, from which the photos are bright, clear. The photographer will be able to find the necessary decorations to match the survey ideas and create the right effect. But if you want, you can always turn to the special pregnancy photo editor
2. At home
Often, photo shoots are held at home, focusing on preparing future parents for a meeting with the baby. The ideas for a home-cooked photo session of pregnant women are also varied.
The camera's lens is packed for the baby, the furniture. A girl, who is expecting a child, is photographed in a familiar setting, so she can relax, feel comfortable, and the photographs will be natural, unenforceable.
3. In nature in summer
Daylight saving time is a great time for a photo session to be held in nature. It could be a forest, a park, a field, a river, a sea, or another pond. The undeniable advantage of photography is the beauty of nature, which cannot be repeated in the studio. Footage taken in nature is always bright, alive, and fabulous. The disadvantage of such a survey may be the unfavorable nature of the environment, which Photoset will have to be moved.
It's a great idea to shoot together with her husband, the future pope, and if there's a senior child in the family, he can also be a member of the photo shoot, making his contribution-direct. Such truly family images are derived from warm, touching, radiating love.
4. In the park
When it is not possible to move out of the city and want to have a photo shoot in the fresh air, a good idea will be a photograph in the city park. There are also plenty of interesting, picturesque places that will give you a wonderful background for your photos. Photographer can also use photo retouching rates after photo session. You can take a picture in the background of historic Places, for her on the bench.
5. In the field
A great idea for a future mother's photography is shooting in the field, among the field colors, the wheat. For such a story, a wreath made of flowers will also play a role and additional props-furniture, blankets, toys, children's clothing. This is a huge field for ideas for maternity photo editor.
Tips for the photo session for future moms
Now we're going to take a look at the pregnancy photo shoot poses, where photography will look spectacular and the future mother will feel comfortable.
Sitting pregnancy photo shoot poses:
1. Sitting on the window
The window sill is a great place for gentle and romantic pregnancies. Thanks to the natural light, the photographs are soft and filled with the sun. And it seems like the simplest and simplest posture of sitting by the window can make different variations of the shots. You just have to have a little imagination and get into that image.
So you look in the window looking at your favorite from work ... And you have a dreamy soft smile on your lips. Admire flowers or just sweet hair.
2. Sitting on a couch
The diversity of seating pose can also be done on couch. Changing hands always use different supplements and accessories (flowers, toy, book, cup of Tea, etc.)
3. Reclining on the couch
It's a nice relaxing position for a pregnant photo session. It's probably one of the most comfortable poses for a future mom when it's convenient to fit in with the legs on a couch, hug tummy or teddy bear and just take a little rest.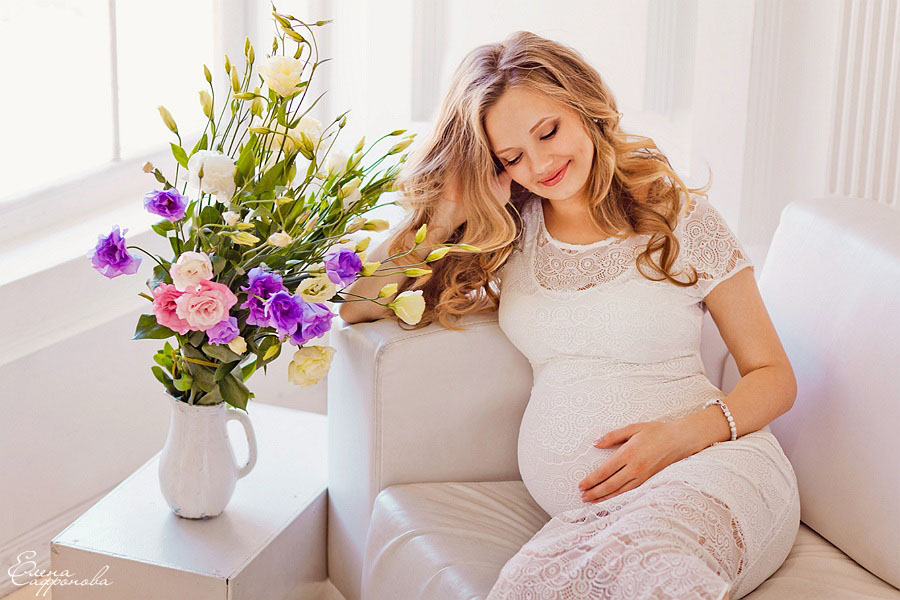 4. Sitting on a bed with stretched legs
A good and easy position for a pregnancy session that leaves beautiful horizontal frames. By changing the position of the free hand, the direction of the eye, and the rotation of the head, you can get different options for this pose.
5. Reclining on the side
Very gentle and feminine posturing, which has a good accent on the bends of the body and also focuses on the pregnancy. You can lie on your side with a beautiful blanket on the floor, or on a bed, leaning on your elbow. And the other is gently put on the belly or in the hair.
6. Lotus Posture
It's not the Lotus posture that's used in yoga, but it's very reminiscent of it. It's a good posture, especially if your clothes completely open the belly. In this position, the pregnant belly is at the very center of the frame. This is a huge field for ideas for maternity photo editor.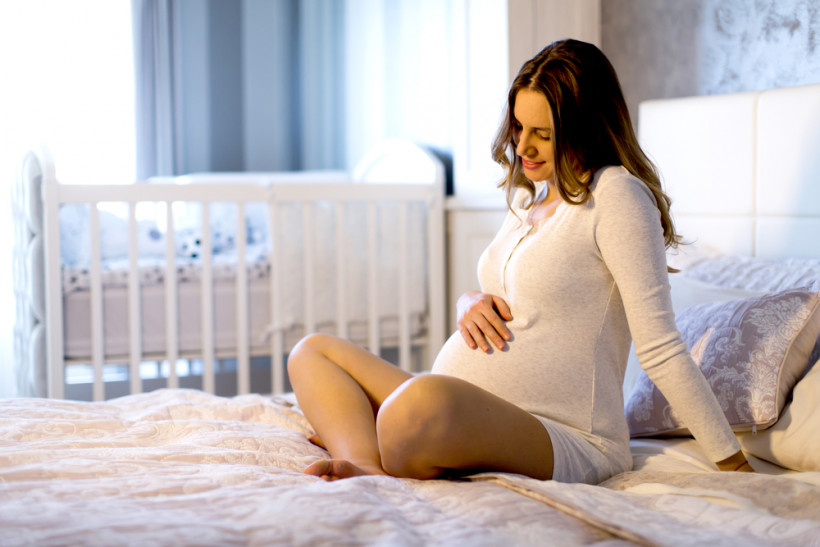 7. Sitting on a chair
This pregnancy photo shoot poses are good because it's not tiring for a future mother. You can lean on your chair's back and relax. And taking into the hands of a child's toy or booties, and against them to a tummy, it seems like you and the baby are talking.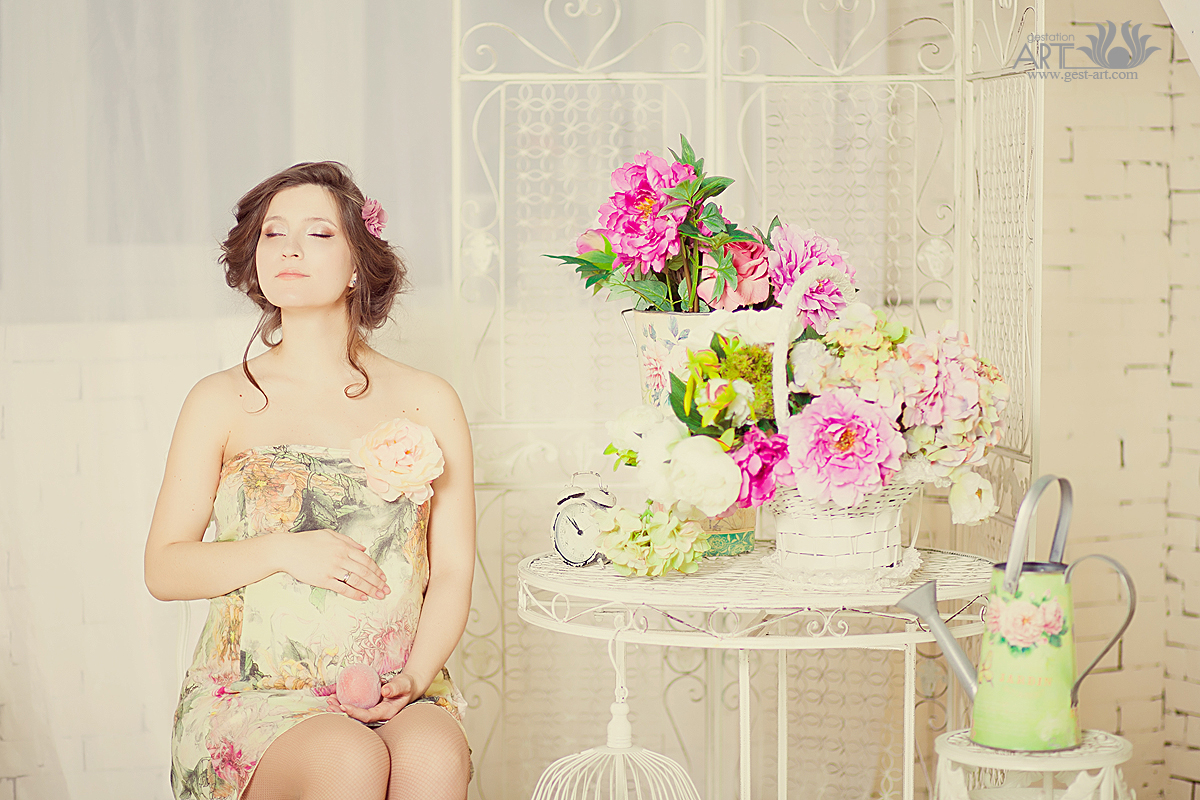 8. Sitting on the floor on bent legs.
Very touching and gentle postures for a pregnant photo session. Sit on the floor, bending legs in your knees and gently hug your tummy handles. It is very good postures to demonstrate the closeness of mother and future child.
Standing pregnancy photo shoot poses
1. Tummy Close-up
Not a single photo of a pregnant woman's picture is "close-up" of a tummy for a future mother. And if you put some handsome props in the frame (silk tape, children's booties, flowers, a soft toy, or a decorated baby stroller), you'll get very nice photos. You can fold hands like a heart or draw something on the tummy. And you can always turn to the pregnancy photo editor for making these photos brightly.
2. To the profile
It will be very rewarding to see pictures of pregnant women in the profile as they are the most visible "interesting position."
3. Face (straight, face to audience)
A very elegant and beautiful posture, something reminiscent of the posture of Aphrodite, the goddess of love and beauty. Slightly having turned one leg in the knee (like closing another knee)-you will achieve the smooth bends of the body. And it's nice to scrape your hands on your chest or gently hug your tummy. In this case, it is important to choose the clothes that will emphasize and better open the belly.
4. Three quarters
This perspective is a good place to stress a pregnant tummy, while at the same time it does not distract attention from the shining face of the future mother. In this position, the pregnant woman's figure is very neat and has an aesthetical look.
5. Using the support
If there is a high piece of furniture nearby (a nice cabinet, a pedestal, a decorative ladder, or a piano), you can have a slightly leaned hand or back. This will help to create a calm, relaxed posture. For these purposes, you can use the wall or a window sill. If there would be some problem with photos you can always turn to the maternity photo editor.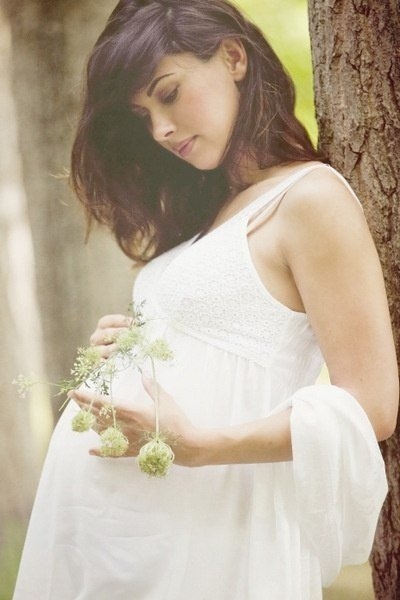 6. Against to Wall
A romantic and gentle posture when a woman stands against to the wall. If you place the model at the window, in the indirect sunlight, the light will be incredibly soft and the mother's photo is very sensitive.
7. In the movement
It's more difficult to pose in motion than it seems at first glance. To make beautiful dynamic frames (where the model dances, spins, or is easy to walk), it tends to spend more time and more power. If your photographer knows how to edit photos beautifully, you will be pleasantly surprised by photo retouch before and after.These pictures look very beautiful. And if you plan to improve editing skills, this article Basics for photographers: how to edit wedding photos seems interesting for you.
And the most important maternity photography tips for mom you should give to each model before the photo shoot is to smile. Smile as sincerely as possible. Ask the model to think about the future baby, the pleasant moments. Out of excitement and fear! And the result will be beautiful photos that will remind you of the exciting waiting period for the baby.
And of course you can make a good maternity photo album with your beautiful photos. The most creative photo album design templates you can find right here.
You are welcome to post your comments.
Post comment via your Facebook account