Blog
The best summer wedding pictures made in June
Today we will look at the best summer wedding pictures in June of this year.
There are no girls in the world who don't like to see beautiful photos. Especially if we talk about wedding photos, am I right? Because every girl starts dreaming about her wedding and planning it from her very childhood. Do you know why? Because the wedding is like a fairy tale, the groom turns into a prince charming, and the bride becomes an incredibly beautiful princess: a long white ball gown with a sweep train, lace, a variety of beads and embroidered flowers, which come into blossom on a smooth fabric of a dress. And of course a wedding veil! The wedding is absolutely the most charming and memorable day in the life of every girl, and she does everything possible to make it perfect. The wedding pictures should be ideal as well, right? Despite the fact that she's going to have to review them again, she knows that her friends, relatives, and future children will look at these pictures.
Girls around the world fond of watching wedding photos and they note every detail: outfits, decorations, flowers, wedding table and dishes on it. When they look at the photos together, the girls talk about what they want to see at their wedding and what they don't like, and what they would probably change.
Why Summer Is So Good For Wedding Photography?
Every wedding is great in its own way, but weddings that are held in summer are especially beautiful. All around is so vivid, green and full of colors, the sky is bright blue and pure. The photos turn out to be so warm and saturated.
So today we will look at the best summer wedding pictures in June of this year.
And the first photograph belongs to Alex Lasota, a talented photographer from Washington. She's very creative and really loves her job. Her clients are her friends, and she appreciates the relationship between her and them.
The photo below is an example of her marvelous work.
The picture looks very lively and interesting. A beautiful bride's dress flutters in the wind, and in the girl's position she seems to be running. The backless dress adds some special elegance to this photo. This is definitely a fabulous photograph, and who knows, it could be shadow of an old, time-shattered castle against the blurred background.
Although we do not know what is ahead and where the bride is going, but it is certainly something bright and beautiful. That's a great metaphor for the future, huh?
On the Instagram profile (@thealexlasota), you'll find a lot of summer wedding photography and more.
Also remember to visit her site http://alexlasota.com
A Movie And The Sea
The next photo was taken by a creative photographer from America, Montana, named Melissa Rey.
This picture is like a frame from an old movie, and that's the beauty of it. Soft colors and rays of the sunset (well, maybe it is, but we don't know for sure) make this photograph very aesthetic and atmospheric. The aesthetic of this photograph resulted from a posture of the newlyweds as well. Take a look at other examples of such photographs in the Theme Wedding Aesthetics - Only Unique Wedding Photography Poses. The wedding, which was held at the beginning of June and Melissa also was a photographer, must be mentioned.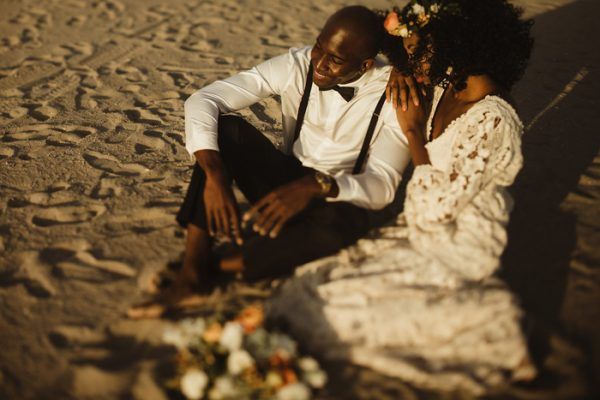 Magnificent photos of the newlyweds on the coast of the sea - such beauty! The photos are so vivid, you can almost smell the salt water and the light sea breeze.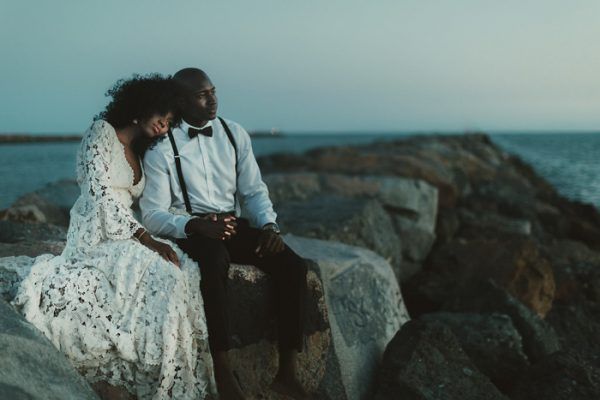 It is impossible to look at such beautiful beach wedding photography without sigh.
Be sure to look at Melissa's profile Instagram (@melissareyphoto) or her site http://melissareyphoto.com
Woods And Forest Made Of Skyscrapers
Well, we've just been on the coast, so let's go to the forest now. The next photograph is taken by an Austrian photographer named Mati.
In this one, just like in the other Mati's photos, which you can find on his Instagram profile (@matiphotography), dark shades are dominated. However, they do not seem gloomy at all. On the contrary, they seem sophisticated and incredibly aesthetic. The heroes of this photograph are in the forest, but despite this fact, we do not confused by "the greening explosion", but pleased with the soft shadow of leaves and the gold color of the sun and its rays.
If you're looking for unique wedding photo ideas, then it is highly recommended that you visit his site https://www.mati-photography.com
So what's next? Let's find out.
Meet a professional wedding photographer who you can find on Instagram under the name @cait_ciara
This photographer has the ability to travel not only between New York and Dallas, but he is very fond of traveling, so he is ready for adventure.
We have already seen photos on the sea and just on the expanse of our Mother Nature, but this photographer proves easily that the massive skyscrapers will be excellent background for the romantic photographs of the groom and the bride.
Urban landscapes can be as beautiful as forests, for example.
Many examples of beautiful outdoor wedding photography you will find on this photographer's website http://www.on-the-times.com
My Heart Is In Ireland
Now, along with a photographer from Canada Carey Nash, we're going to Ireland! It is famous for her truly beautiful nature. Rocky mountains, cliffs, green parks, blue lakes - there are so many beautiful places to take photos! There are also many old cryptic castles in Ireland that looks breathtaking.
Simply put, finding a place for a wedding photo session is not a hard thing to do, that's for sure.
Here you can take the best outdoor wedding photography! Carey Nash took a picture of an incredibly beautiful couple in one of the incredibly beautiful places in Ireland. The blue of the water and the sky merge, and it seems endless. It doesn't matter if the wind blow over the cliff and the heights is frighten you, because in the arms of the beloved man it is cozy and peaceful. The photo looks very spectacular. Of course, this effect was not reached without the image being processed, so for the same quality and look contact the wedding photo editing service
Move to a safer place. The same couple in the salon of a beautiful retro car. And the photograph seems to be old, if there is no perfect quality and "juicy" colors. How tender and romantic the photo is?
Original Wedding Photo Ideas
Now let's take a quick break from the most beautiful wedding pictures of July and take a look at a few unique wedding photo ideas.
1. Pets
Who's not be amused by looking at a cat or a rabbit? Also in combination with the beautiful bride and groom? You can use special circus animals, or you can capture a photograph of your favorite pet: a dog that has been living with you since you were a kid or a parrot.
And maybe your parents hold a ranch, then it is possible to have noble horses in your pictures, and the groom can act as prince who arrives on a horse.
Of course, for dramatic photography, you can also use unusual animals like reindeer, giraffes, or owls.
2. Light
Candles, light bulbs, light structures, all of it will create a comfort, romantic atmosphere, and maybe even a little bit mysterious. Night and evening photos with many shining lights in the dark are particularly attractive. A unique solution is a glowing bride's bouquet! Just remember to ask the photographer how organize this shooting best - the experiments with light require careful preparation and most likely the work of wedding photography post process services
3. Rain
Yeah, what the summer or fall brides are most afraid of is actually a source of stunning pictures!
4. Neglected buildings
Antique buildings, homesteads, constructs are rarely used, and therefore it is a unique background for a wedding photography session. In abandoned buildings, you can make the stunning summer wedding photography.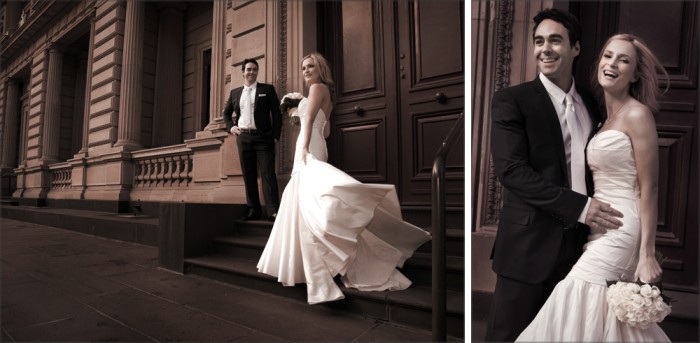 5. Water
You can take a photograph on catamaran, on a boat, or on a yacht. When the newlyweds sail down together in a boat, it's great to symbolize their outset of a long joint family swim. The water photo shoot always looks very romantic and gentle. Here you'll find useful information about Beach Wedding Photography Ideas
6. An excellent place to hold a wedding photo shoot is an amusement grounds.
Well, where do people have real emotions of happiness, joy, and fun if not on the rides? Plus, the surprised and enthusiastic views of the people who see the groom and the bride on the ride - all of this will create really unique, original and interesting pictures of the wedding photo shoot.
7. Humor
A good sense of humor helps not only in life, but also in the search for unique wedding photo ideas.
8. Requisite
Funny signs, glasses, and other things will help make your photo more interesting and more original.
Sunny And Sandy Pictures
Let's go back to the review. I'm presenting one of the best summer wedding pictures of this year. The author of this photograph is a beautiful couple - Jonnie and Garrett. You can learn more about them at their website http://www.jonnieandgarrett.com
Beautiful bride against the background of a sunset or sunrise - what could be more beautiful? The background is blurred, all attention to the bride: there is an unusual, but still a magnificent bouquet in her hands, and the warm sand under her feet and the sea behind her back.
Jonnie and Garrett have an Instagram profile, so don't hesitate and take a look at the other photos they took there (@jonnieandgarrett)
Not typical, but very pretty example of beach wedding photography. By the way, photos on the beach often need to be processed because of the huge amount of light in them. Or if you want just to make the bright colors even brighter, as we can see in the photo below.
There you can also see other instances of photo retouch before and after
Another breathtaking photograph by the water belongs to a photographer from Germany, Kevin Biberbach (@kevin_macht_fotos). More information about him on his website https://www.kevinbiberbach.com
Again, the backless dress, the stone cliff and the sea - there's something in these pictures that doesn't let us just walk by. You can look at them for a long time and even come up with a whole story, a photographer's idea that good.
The fact that the photograph was taken during twilight makes it even better. You can imagine a breeze and a nice cool air that only happens this time of day. Fascinating!
Meet, Vintage!
We've looked at a lot of examples of outdoor wedding photography, and the next one is made inside the building.
Meet the photographer from New Zealand, Johanna MacDonald. Like most wedding photographers, she also specializes in portraits. She has an experience of six years working as the wedding photographer. Find out more about her on her website http://johannamacdonald.com
The main objects in the photo composition are the window, the bride and the flowers. It is darkened that makes the photo smart. The long trail of bride's dress is luxurious, and the photo looks very rich, despite its simplicity. It was probably taken in some church before or after the wedding. The photo can even be called vintage, and it reminds us of old traditions.
Another example of such a photo is a picture taken by a couple from Canada, Joel and Justyna.
This summer wedding photography shows the sincere emotions of the newlyweds. Also the interior of the photograph is very pleasant-looking. It's not clear why, but the bare brick wall is a really marvelous background, and if you have houseplants next to it, that level of aesthetic pf a photography arises high. You may think, what is so special about this photo? But exactly its simplicity makes it so attractive.
Another thing that makes this photo attractive is the beautiful legs of the bride and her high-heeled shoes.
Other photos taken by Joel and Justyna you can find on their website http://joelandjustyna.com
Exotic Pearl
Apparently, the bride is the pearl of the wedding. The next photograph shows us not two people in love, but a future wife.
Side light creates a very interesting effect and contrast between dark and fair. It also highlights the girl's face and body lines. This photo is taken by Sara Rogers, a talented photographer from Canada who likes traveling.
Find out more on http://www.sararogers-photography.com and also on her Instagram (@sararogersphotography)
The next picture can be called exotic.
Its author is Ryan Char Smith, an excellent photographer who lives in California.
What makes this picture exotic? It's probably all about the abundance and size of grass that surrounds the groom and the bride. They're standing on the bridge, but because of the leaves and grass, it's impossible to see if there's a river under it. But it's not that important, because the accent is on the trees, the bushes and the grass, and the couple which is in the center of it. Newlyweds looks very good in the dark green. They are not just in the grass, they're in the middle of a green whirlpool. And it's amazing.
Other summer wedding pictures taken by the photographer are available on http://www.ryanchardsmith.com
The Nearest And Dearest
Today, of course, the newlyweds are in the focus, but we should not forget about the nearest and the dearest, who are an important part of the celebration.
The warm photo below is taken by already familiar for us Johanna MacDonald.
Any happy moment can become even happier if you share it with your dear people. There is a separate service for processing such photos, it is family photo editing.
Hot Is Not Always That Good
The main advantage of summer as a season is the possibility of getting married outside. And very few people would prefer a stuffy building that will probably be hot in such hot days. It will be like in a stove! It is much better to pick some nice piece of land in the shadows of trees or near the sea, where the sea breeze takes the heat away instead of a stifling house. Or you can choose a summer evening that slowly turns into the night? This atmosphere is perfect for dancing and having fun!
Especially as modern technology makes it possible to take high-quality photos in the late hours of the day.
A Little Bit Of A Fine Art Photography
And the last beach wedding photography is a picture taken by Wasan Chirdchom. Ans it is the first one that can be attributed to fine art because of its pastel colors and softness.
To get this color palette, you need to work with one of the photo-processing programs, or ask for services.
Take a look at the different packages of suggestions for processing your photos in the photo retouching rates
This is where our review ends, but the beautiful wedding pictures are not! But now you have links to Instagram of these wonderful photographers, it's not going to be a problem to find such photos.
You are welcome to post your comments.
Post comment via your Facebook account