Blog
Winter Wedding Photography Tips to Enhance Your Wedding Photo Session in Winter
Wedding in winter? Yes, please! Not all the couple venture to have their dream day when winter rules outside. Find all winter wedding photo ideas in this post.
Wedding in winter? Yes, please! Not all the couple venture to have their dream day when winter rules outside. Eddy winds and blizzards seem to dater sweethearts from making their wedding happen in winter. But it's a humongous plus if you think about it harder. Those few couples, who take their chances and dare make it happen notwithstanding low temperatures and snowdrifts, can have a "dreamy-winter-wonderland" wedding. As s result, winter wedding photos are automatically perceived as unusual and therefore special and mesmerizing.
Winter wedding photography tips
Wedding photo session doesn't mean photos only in snow, it is everything related with wedding photography editing techniques. Be more adventurous and make the most of any winter-wedding-theme related venue and composition. Those may be frozen lakes, icy caves and wintry mountains, cozy winter huts and cabins or even snowy busy downtowns.
Without any doubt there will be a couple of troublesome chilly moments but sure enough they are more than worth it! There are tons of ingenious ways of How to choose the right background for wedding shots for a particular couple, so take your chances and try out. You may chose a miraculous and beguiling snow-covered venue or focus on snapping alluringly candid moments.
Couples differ, thus it's a matter of displaying those peculiarities of theirs for making the most striking winter wedding photo shots for them.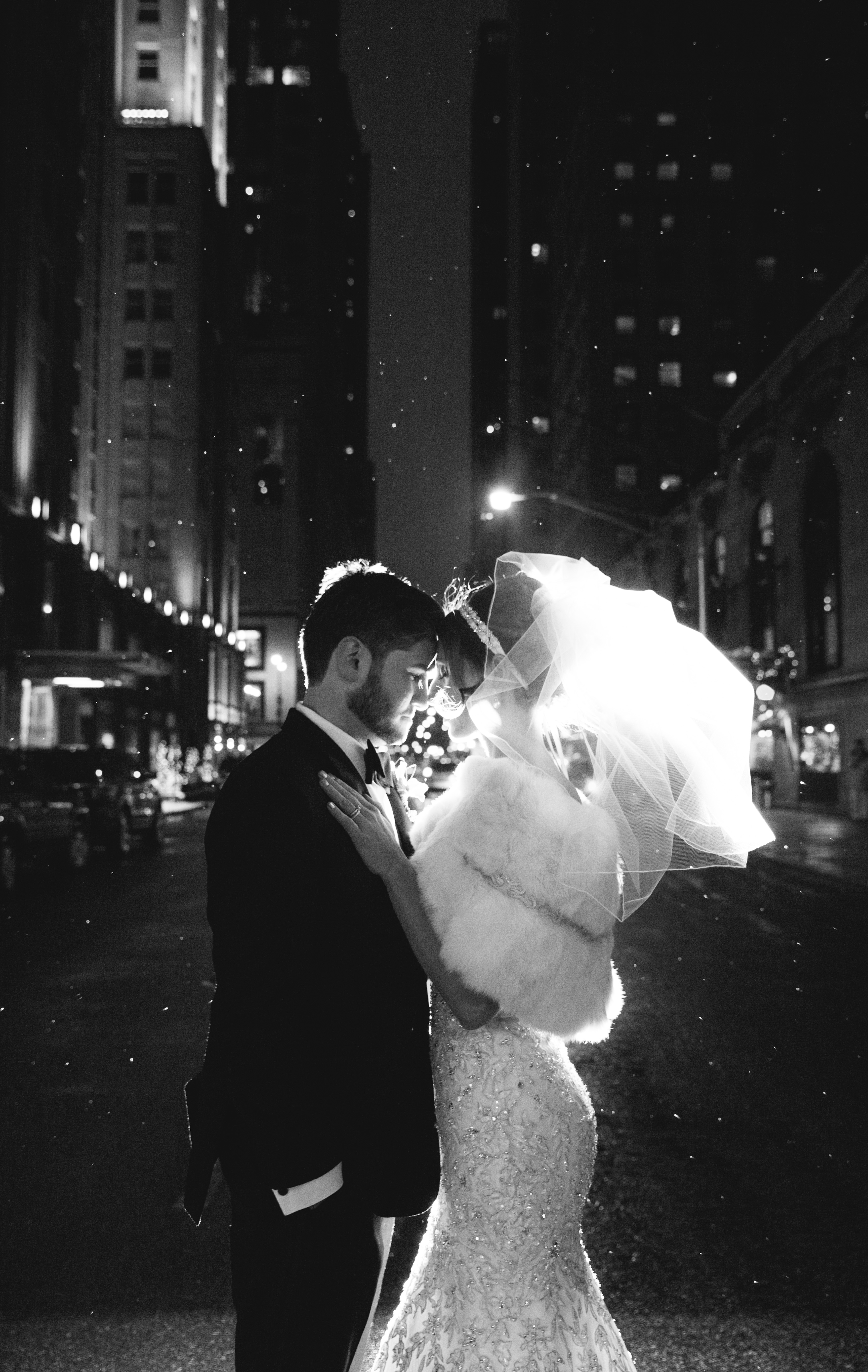 Besides, it should be only white on white, don't you think? Make success of additional colors, playful details, queer brides' and grooms' garments. There is a heap of cloths items which will definitely look out of place any other season but winter. So be sure to make the most of fashion winter boots, rock all those fluffy cloaks, capes and cotes, magnificent faux and genuine furs, warm and comfy cloves and mittens.
All those add some more bewitching zest and create splendid combinations which are no doubt just perfect for stupefying winter wedding shots compared with professional wedding photography editing techniques. That's what makes winter wedding photos stand out of the herd and enchant others.
Winter wedding photo ideas and poses
Well, it's definitely a matter of what feels right and works for a particular couple. Nevertheless, it's quite an important issue in wedding photography, no one will even presume to question it. Posing is as important as editing wedding photos in Lightroom. Poses can say a lot about couples, their love stories, display their emotions and sensations towards each other at a particular angle.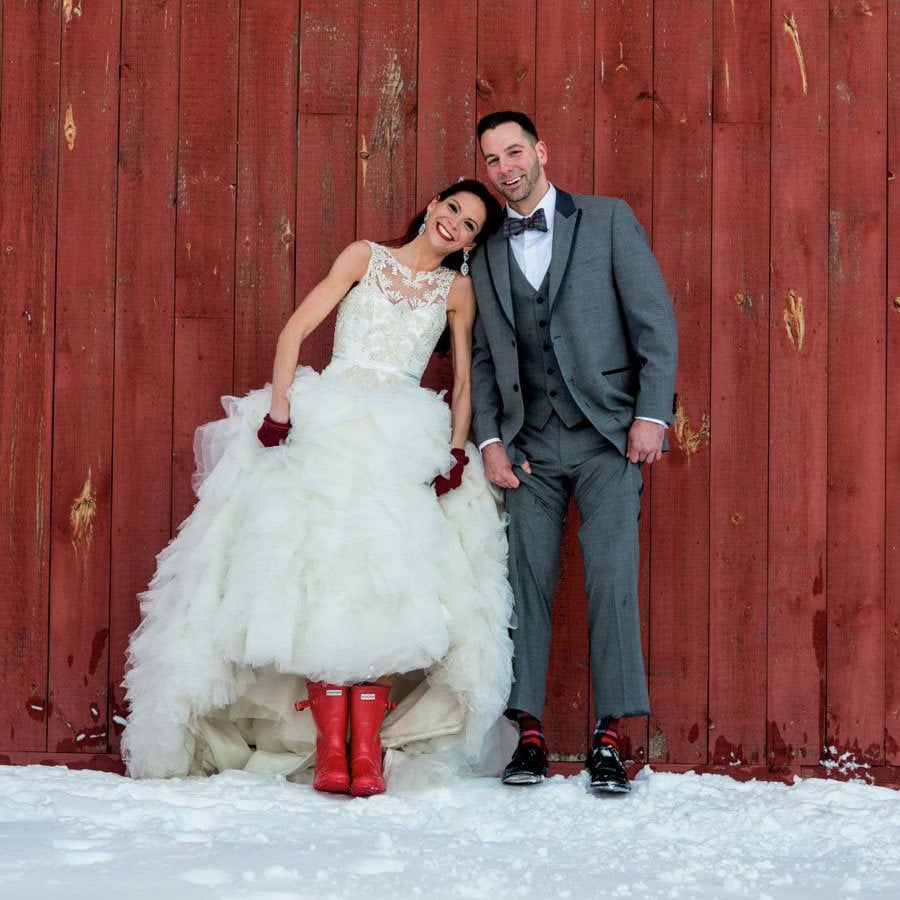 Thanks God, there is a vast Collection of must-have poses for weddings at this point, so you have an exceedingly wide range to choose from: the forehead kiss, lift and carry, almost or hidden kiss, romantic gaze and so on and so forth. When winter severe colds are concerned, cuddle ups and kisses seem to transmit the most of warmth and passion existing between newlyweds. Such shots are especially touching as they are natural and not posed for the most part, as well as depict that astoundingly boundless tenderness that happy sweethearts are going to share for the rest of their lives.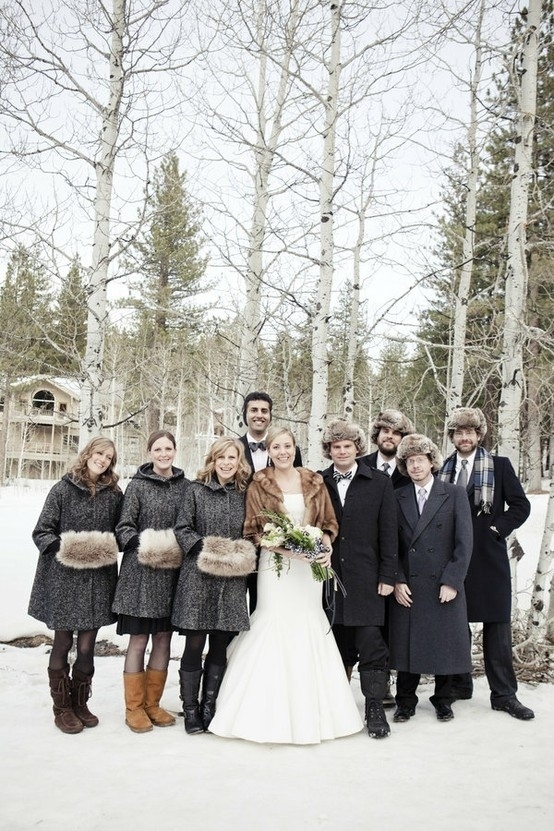 But still, the most crucial thing in wedding poses is the ability to catch the appropriate moment. It's highly desirable to capture couples' sincerity, buoyant and cheery mood. Everything that comes naturally and without "making much sweat about it" is totally worth being shot. So be vigilant in order not to let special and moving moments go by unnoticed.
Things to enhance your outdoor winter wedding photos
By the way, don't steer clear of indoor winter wedding shots. It's all about winter vibes which may be conveyed by means of capturing dim candle lightning, winter themed decorations and a multitude of other winter-wedding-themed nick-necks. Romantic winter wedding atmosphere is even more boosted when capturing snug fireplaces, knitted accessories, cute little pillows and cushions, as well as comfy plaids.
Pay attention to all those accessories and decorative trifles since they can make a tremendous difference and considerably heighten the general quality of your wedding photo shoot! For instance, try to capture decorative candles. It's not a new trick but sure a good one since there is a great deal of such a wedding accessory: decorated with bright ribbons, leaves and small brunches, colorful sea salt, as well as petals of various fresh flowers, glitter and sparkles etc. Classical while ones of different sizes will also do pretty good.
What is more, one may insert diverse winter wedding signs, flags, different tables and garlands. They complete couples' winter wedding fairy-tale and tell the whole story new weds would like to memorize. Therefore, all those must be captured in memory as well.
We desperately hope that these tips will aid you greatly in the artistic process of creating the most captivating and enticing winter wedding photo shots which will make everyone crave to have the same majestic winter wonderland photo session right away! Make fun of this fascinating season and help newlyweds firmly capture their special moments in mind. Don't forget about the importance of winter wedding photo editing services. Most professionals outsource their shots and save time on editing wedding photos in Lightroom. You can try it as well on our website with high quality retouching and cheap photo editing prices! And here is a couple of one of the best winter wedding photos for you to get inspired.
You are welcome to post your comments.
Post comment via your Facebook account