Blog
Family Photo Ideas
With summer upon us that means family photography season is in full effect! That is just a golden season for organizing colors photo sessions and turning mind-blowing outdoor family photo ideas into reality.
So, we have gathered 100 super fun and creative family photo ideas that might just be the right fit for your next family pictures. We hope that these family photography ideas may catch your eye.
---
Contents:
---
Classical family photo poses ideas
Surely to prepare a rich set of unique family photo ideas is a great challenge. For this most photographers and families, who have ordered a photo session, just stay limited with common family photo ideas in studio and outdoors. Nearly 90% of Americans use them and that has led to one stereotype concerning family photos sessions.
Just scroll through them and decide are they enough for you?
We are together
By LJHolloway Photography
The most typical example out of all possible one. Here only great forest location and blurred background add professional feeling.
Smile to the camera
By Avenue photography
Again nothing except bright sun rays do not have anything in common with unique family photo ideas.
On the bridge
There are many variations of seating outdoor family photography ideas on a bridge. Still, all of them cannot be named as fresh.
On the grass
By Jessica LK Photography
That is most common and the simplest sample out from family picture ideas with baby.
Stay positive and natural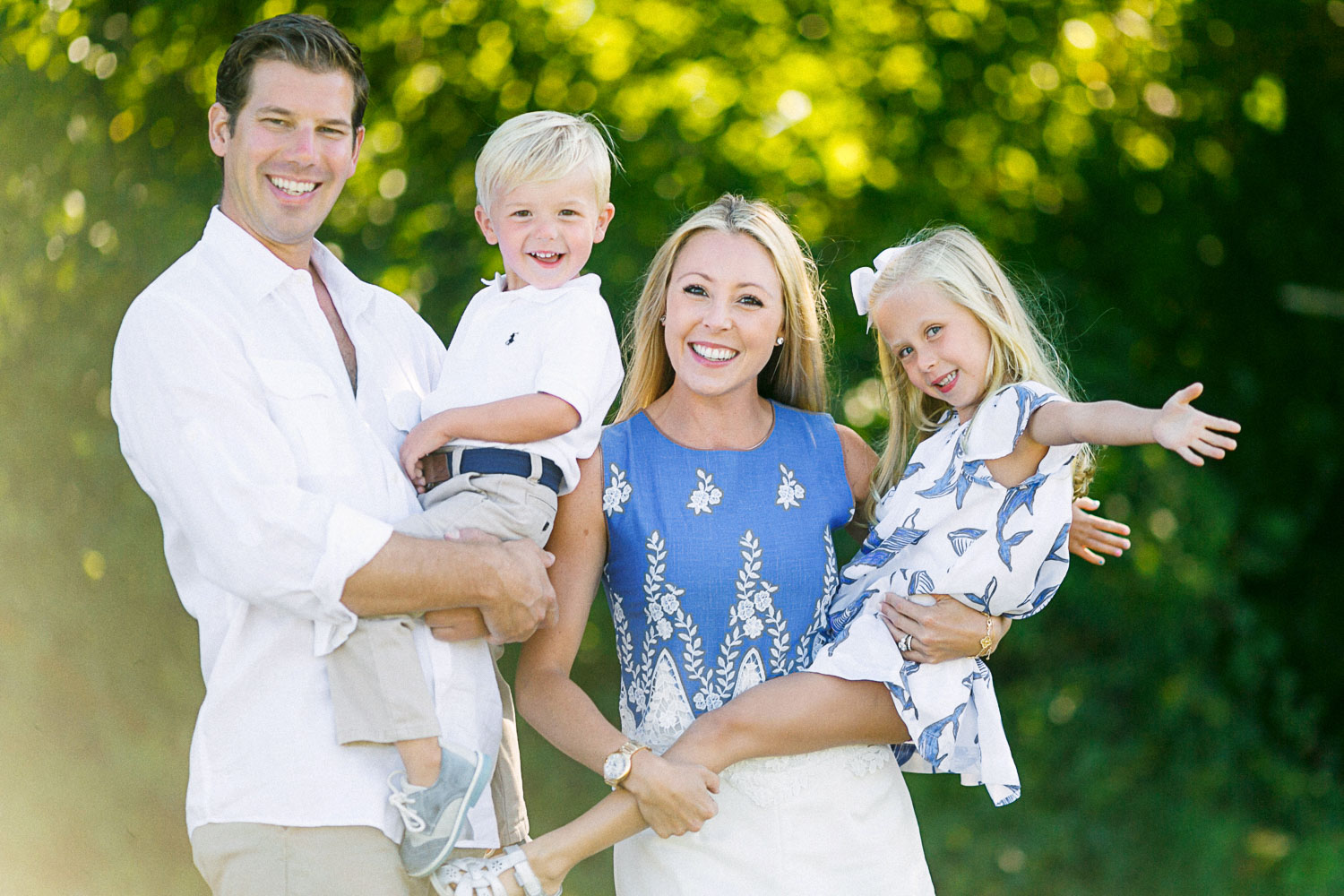 Together on a bench
By Rachel Meagan
On a soft bed
By Sweet Bliss photography
That is the most widespread variant of classical family photo ideas in studio with newborns. Nothing complicated, just lying and smiling into the camera.
Surrounded by golden leaves
By Melanie Maxine
Monochrome classic
By LJHolloway
Family photo ideas in studio
An intimate moment
By Simply B Photos
It's possible to create an atmosphere of intimacy even in the studio. Simply take a picture of a father reading bedtime stories to a child. This will help you capture sincere emotions.
All together
Evening gossips
By Kweilz
This is the most fashionable look among all family photo ideas in studio. Dress up the baby girl and mom in matching outfits for cuter result.
Close poses
By Stevenson Photo
People who say that posed photos are boring obviously don't know how to do it right. Even posed images can be exciting if your models feel comfortable.
Heart-shaped hands
By Beco G. Photography
To create an image full of love – tell all the family members to make hearts with their hands.
Share hobbies
By Kweilz
If you are a fan of funny family photos, try recreating this idea. It doesn't necessarily have to be yoga – ask the parents about their hobbies and try use that information during a photo session to make it more personal.
Metal bar stools
By Allison Tyler Jones
Bar stools are an excellent prop for studio photography. Incorporate them into the photo if you are working with a large family.
Father`s sons
By Kweilz
Dress the father and the son(s) into matching outfits and pose them similarly. This will result in an endearing shot.
Mother`s daughter
by Kweilz.
You can do it with ladies too. Matching outfits are necessary too. Tell them to sit in line and fix each other's hair.
Kiss attack!
By Jwlphotography
Tell the girls to "attack" their dad with kisses to get this cute shot. This is a great idea for family photo poses for 3.
Epic Christmas
By Ho Hum Cards
Show the family's fun side by recreating this picture. Your clients should have a good physical form. Try several times before shooting. You can also take this photo at your clients' house. For more Christmas posing ideas inspiration, check out the following video:
Outdoor family photo ideas
Get a room, mom and dad!
By Ohsosweetstudios
Tell the parents to kiss while holding their kids and capture their sincere reactions.
Coming soon
By HANNA MAC
Tell the future parents to bring an ultrasound picture to a photo session. This is a really sweet way to announce about pregnancy.
Adventure time!
Always consult the parents before taking such pictures and even if they do agree – mind the safety of children.
Use shadows
All you need to recreate this creative idea is a sunny day and kids holding their hands. You can also suggest parents joining them.
Green background
At the end of the day, go home together
Tell your family to walk away from the camera while holding hands. For dramatic effect take the photo during sunset.
Take a moment to look back
By Foto Prewedding
Make the parents facing away from the camera and the little kid facing towards the camera. Don't forget that Black&White effect can transform any photo into a work of art.
Don`t be afraid to get dirty
Elise Meader Photography
Don't be hesitant to get dirty during your photo shoot. Play on the grass and have fun!
Dance
By Krissy Millar Photography
Have the ladies wear dresses and dance in circles with flower crowns on like hippie.
Bed and where is the breakfast?
This combination of coziness and soft colors creates a magical atmosphere.
Let it show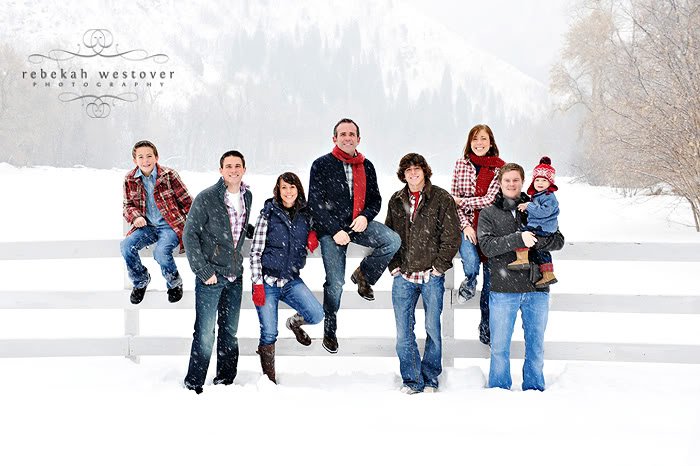 By Rebekah Westover Photography
Let it Snow! Picturing your family framed by soft downy flakes in a mountainous outdoor vista is a perfect Christmas photo idea. Let them all be on different heights, not stand straight.
Stable background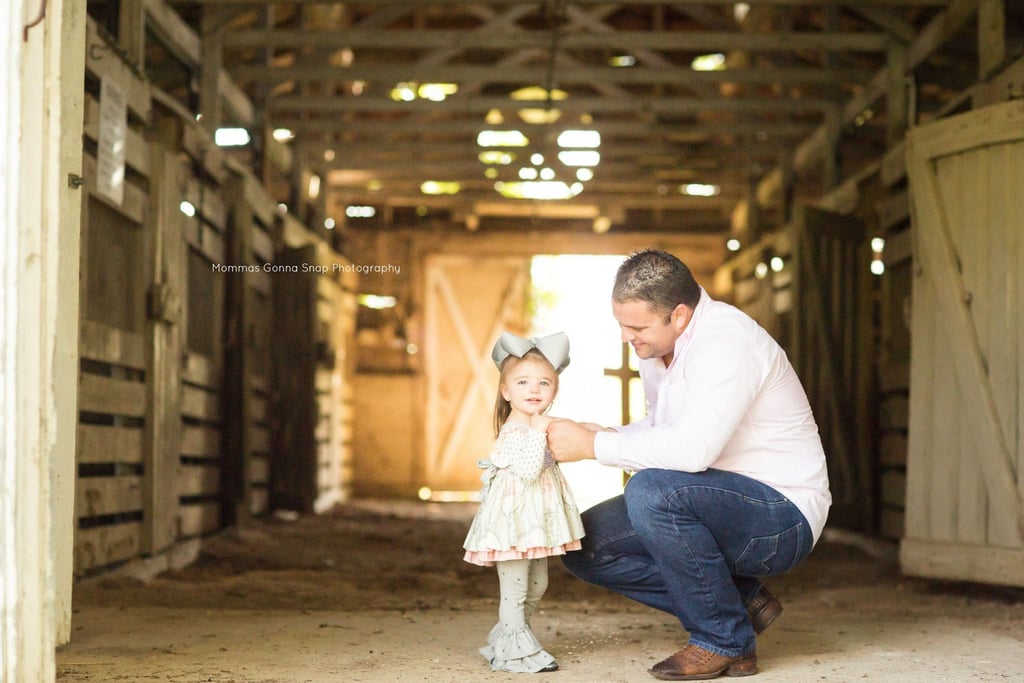 By Momma's Gonna Snap
An old stable can create a beautiful backdrop for your family pictures.
Spring meadow
By Kimberly Kinder Photography
There's no better place for a photo session than spring meadow. Tell the family to bunch up to emphasize the closeness of the family. Use matte and soft color effect for better images.
Summer paradise
By Lafortune Photography
What are the best colors to wear for family pictures on the beach? White, for sure. Take a picture of the family posing near the ocean to capture them at their happiest. Mind the wind to avoid stray hair.
With beach balls
Use beach balls as props for your photos and tell everybody to throw them up in the air. Always pay attention to color schemes for family photos. Notice how the beach balls complement their bright clothes on the photo above.
Baseball family
By Kamikay
These ideas are perfect, if the family is sporty. You can also improvise and choose other sports that characterize your family best.
Motion photos
Is the family you are taking pictures of is obsessed with riding bikes? Definitely incorporate it into the photo session.
Our family portrait
What if you are capturing a family of photographers? Bring cameras into the shot! Most of us treat them like family members, so why not show that in pictures.
Take a look at this family's vlog about the original outside photo session they had:
Fun family photo ideas and poses
I am fed up
By Kweilz
Only real emotions. Show an honest side of parenting that is usually hidden. But keep it funny as well.
Group hug
By Allison Tyler Jones
This is a simple yet cute pose for a photo. You can even include the pets into a hug!
Save the world together
By Emily Garrison Photography
Superhero family picture poses will never go out of style!
Sharing the secrets
Take a lifestyle shot of kids sharing their deepest secrets to each other.
Movie theme
This is another one of unique family photo ideas. Choose a film that all the family members love and pose them as movie heroes. However, this idea requires lots of preparation and many expenses on costumes and props. Create this unique family portrait with the help of photo montage. Any client will be impressed with this idea and this photo will hang on the wall in the family's living room.
Upside down
If you are looking for fun family photo ideas, this is the one for you.
Never leave your kids alone!
By Justin Van Leeuwen
If you want more inspiration for fun family photo poses ideas, here's another picture for you. Mind, that you shouldn't try to repeat this in real life. Simply combine the pictures in Photoshop. It's an original idea, that needs background removal
No place to hide
Tell the parents to kiss and take a picture of kids sneaking up on them.
Sibling love
By Elise Meader Photography
This pose is one of the cutest family picture ideas with baby. Let the older siblings hold a little baby.
By K Dimoff Photography
Let the kids be themselves and capture their genuine emotions
Look at the world from the perspective of your little kid
By Pinkle Toes Photography
Try these unique family pictures ideas to impress your clients. You can also show the parents how the world looks from the kids' perspective.
Pillow fight
By Kristen Duke
You can try this indoors as well as outdoors to look more extraordinary. Tell the family to get into a pillow fight and capture candid spontaneous shots.
Include the pets
By Portergraph
Why not include the family pet into a shot? Tell the couple to kiss in the background and put their pet in focus.
Do the math
By Hanna Mac
This is another creative way to announce pregnancy. You can adapt this idea to whatever number of family members you will take pictures of.
Naughty kids
By Hongkiat
Recreate this silly pose, but make sure the children are not hurt.
Family flashback
Recreating old photos makes for unique family photo shoot ideas. Such flashbacks look really sweet and endearing.
Jump!
By Beach Chic Photography
Not all pictures should be serious! If the family is willing to goof around ask them to jump.
Family ladder
This pose is rather simple, but still looks nice and shows connection between family members!
I'll give you my heart
By Kweilz
This is a great idea for congratulating a mom on the St. Valentine's Day.
Want Sushi?
By Kweilz
Line up the family and get your assistants to hold up sushi rolls. Make it look like they are the clothes. It's a difficult pose idea, but the result is well-worth it.
Facial profile
Pose the entire family in profile to create this impressive shot.
Pay tribute to your favorite rock-n'-roll band
By Simplicity Photography
Recreate the famous "Abbey Road" cover for artistic family photos. For safety reasons, don't choose busy crossings.
Pink flamingo
By Kweilz
Tell the girls to lay in line and do this "Flamingo" pose. Use plastic flamingo as a prop. You can also add clothes with flamingo prints to the mix for a more impressive photo.
Pretty mermaids
By Kweilz
Transform the ladies into mermaids! Don't forget to use sea shells as a prop for a more authentic picture.
Celebrate holidays together!
By Kweilz
For this goofy pose, sit the entire family in line and ask them to raise their hands. The hands with the eggs can be later added in Photoshop.
Living marionettes
By Kweilz
This one is perfect for family photo ideas in studio. Dress up you family members like puppets to create this cool shot. Black and white outfit will only brighten this photograph.
DIY family photo shoot ideas
Teepee
Create this easy DIY backdrop for the photo session. You can also incorporate fairy lights.
In line
By Kweilz
If you wonder how to take family photos at home, use this excellent idea with chairs as props.
Use flowers!
By Kweilz
Christmas lights
By Wendy Vonsosen Photography
This is a fun idea for DIY family Christmas photos. Just wrap the whole family in fairy lights, instead of the tree. Or use big light balls.
Looking for a fir-tree
By Alissa Saylor Photography
If it's holiday season, capture the family looking for a perfect Christmas tree.
Parents` masterpiece
By Dear Ellison Photography
Tell the parents to hold a picture frame and pose the kids inside of it to get this awesome result.
Inception
By Ilyas Guertili
This is an imaginative way of taking family portraits. However, it's not the best option for a large family, as you won't be able to discern anybody.
Paint fight
By Kristen Duke
What an excellent idea for a DIY outdoor photo shoot! This will engage everyone into the shot and the family is sure to have the best time of their lives.
My big heart
By Kweilz
Even a blanket in the shape of heart can turn into a simple, yet elegant DIY prop.
Get creative!
By Hideaki Hamada
So, now you have more than ideas to experiment with. The last advice. Do not blindly follow all these tips. Use them just as basement and try to concoct your own masterpiece.
Family portrait clothing ideas
It's a common mistake that everybody should wear matching outfits for family pictures.
Of course, they look great, but they are not a necessity.
Pick a style
By Hongkiat
Ask what style every member prefers and find coordinating outfits for family pictures.
Favorite movie
By Liz Bianca Photography
This is one of the best family portrait clothing ideas. Simply pick a film that family likes and dedicate the photo shoot to the character from it.
Grab attention with bright clothing
By Lindsay Wright Photography
Bright clothes is always a good idea, especially if you coordinate the colors.
Hope, that these family photo shoot ideas you found very helpful. But you guys, let me know what you think about these ideas, poses, outfits, and how you shoot families. Do you prefer like portrait photography where it's enclosed environments, not too many distractions or do you prefer outside and doing natural light and using the Sun.
Where to use family photography
Such a great amount of job as selecting right family portrait clothing ideas, suitable location and so on cannot be done for the aim of photos ending up trapped somewhere deep inside of our computers or social media.
The most common way to share family photo is hanging them at home. It brings such undeniable pluses. Children, looking at smiling happy images will have a sense of being needed and secured. So, the most common way out here is making a WALL GALLERY.
You may also consider creating a PHOTO ALBUM. Those, who like scrapbooking will admire it definitely. You may create one album or have different that will be devoted to a certain occasion. You can create such albums online as that is faster than scrapbooking, you can create multiple copies and have less clutter at home.
You can use such photo as a creative GIFT. Choose the suitable variant from a photo puzzle, photo mugs or printing on case, pillows, coasters, etc. Besides, a key chain is the most popular variant.
And the most traditional variant is making a HOLIDAY CARD. Some people like creating them on their own, some prefer doing that with the help of professional services. If terms of second choice, you can order such cards online and have door-to-door delivery.
Hope, that these family photo shoot ideas you found very helpful. Guys, let me know what you think about these ideas, poses, outfits, and how you shoot families. Do you prefer portrait photography where it's enclosed environments, not too many distractions or do you prefer shooting outside and doing natural light. Be classical or creative – what is your choice?
You are welcome to post your comments.
Post comment via your Facebook account