Blog
The funniest pet weddings photographs
Charming pet weddings are conquering the world.
Pet weddings are quite a trend today. More and more pet keepers are obsessed with this idea. They do everything possible to make it very cute and charming. And all together why not? Family pets are a part of our life and they contribute immensely to our well-being. Animals make us feel cheerful and improve our mood. They feel the same way we do. We might even dare say that pets are much like their owners. They pick up their traits of character and manners, things and even some products. In such a way, they resemble human beings. Being along with us in all the upheavals of our life, without saying even a word they are the truly friends of people. Animals do not ask for some than you give to them. Only thing they need is our love. However, they give in return even more than we even can think about. We believe that animal wedding is a kind of a present for them, in such a way we praise them. In addition, some may include pets into their wedding to make it still more amazing and unusual, bizarre and memorable, trendy and awesome.
Animal wedding is a whim or a trend?
Many pet keeper treat their pets as full family members. That's why they dress them in beautiful suits, buy accessories, organize different celebrations and parties. One of the rest ones, coming into top events, are pet weddings. Owners are ready to spent fabulous sums quite often.
The appearance of animal wedding dates back to 90sof the last century. It was Japan to establish this trend. At that time the ceremony was not very extravagant and attire of the couple resembled to a garter extend the outfit of real groom and bride. The animal bride should have worn a veil and a groom could not go without a bow tie. As a result, these animals got a special passport endorsement. Some of the owner had even gone so far as to strive for benediction for their pets.
Soon after that, this trend has come into Europe and the USA. Shortly we world became overflown with the tendency to merry their pets with neighbors' ones and friends'. National wedding traditions were preserved even in such weddings. For instance, in Japan pet wedding was sometimes celebrated for two days taking into consideration all necessary customs and rituals, with abundance of catchy, bright decorations. In the USA limo and church were rented for this occasion. In Europe, owners even ret whole castles! In Russia this trend has recently come and hasn't so much rooted as in other countries. Though it happens that people in some places of the world treat bears as Russian domestic animals. Perhaps they are should pay closer look to traditional Russian wedding- what is it like?
But judging from the average, cats and dogs wedding are not so much widespread.
Quite often, such weeding make only the owners of noble and fashionable breed. The pets of course do not oath in faith and love, give any promises. Instead the pets owners do that. It should be noted, that companies responsible for arranging the celebration realized that it might give them a pretty penny.
A good example to illustrate it is a wedding ceremony held in the USA, where the bride was wearing a dress costing approximately a thousand dollars! That was only the attire for dog bride! It was decorated with diamond-cut steel heads, handmade embroidery and expensive lace. Herewith such costumes should be made with natural non-creased materials, which must be suitable for animals. At this point, imagine that such attires are made for bridesmaids, guests and witnesses. What it would be a ceremony without an after party banquet!
Another astonishing animal wedding was in Great Britain. This time rabbits were the one to tie the knot. By the way, the groom Roberto was a champion of the world in heavy weight. He was of about 20 kilos. His bride was slimmer than Roberto and perhaps she was not very happy with such a perspective as getting married with Roberto. We believe that was the reason of her numerous attempts to run-away from the wedding ceremony. The event was held by the priest and soon after it there was an after party with all the guests drinking carrot juice.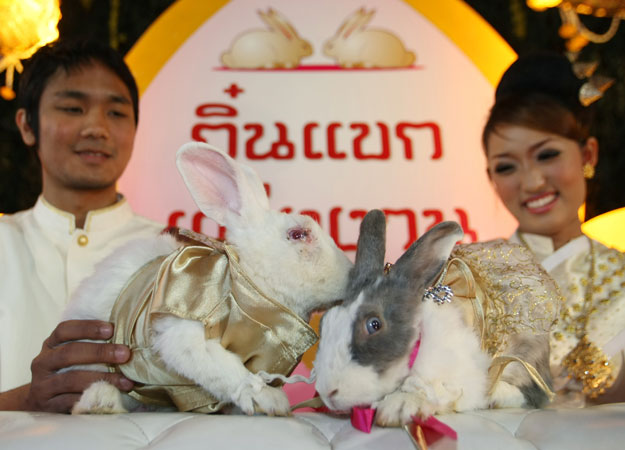 Judging from everything above mentioned, we might conclude that an animal wedding has become so much widespread that many people do not consider it a whim. People so much got accustomed to this kind of practice that we hardly think of it in a different way. However, there are a lot of people who would think it bazaar and a waste of money and effort. People say "whatever floats you boat" and are likely to support this point of view. If you are so much captured with your pet as for making a wedding, you are free to do it. Nobody will criticize you. Our society is so much varied and unusual that a mere pet wedding won't become a bolt from the blue.
Of course there are some people who are against such events. They consider it derision and vote for the abolishing of these weddings. They consider it terrible to make dogs dance on the whim of their masters. It is said to be very cruel. Moreover, too many noise and different kinds of lights also mess up animals psyche.
However, not everyone in the world backs up this idea. Animal weddings are very popular in the world. In many European countries, such events ring the bell. The majority of the pet keepers believe that their small friends like such occasions since pets can eat there as much as they want, play and just have fun with all the rest of the guests of the event. In addition, some of the pets seem to be in captures, when they are in the center of everybody's attention, and that's why they are believed to like it.
The world's statistic claims that with each next year, the amount of people tying the know lowers. Just on the contrary to animals, who get married more and more often with each year. Weddings of beloved dogs, cats, rabbits and other pets now are on the same line with the other family anniversaries and important family dates.
The best cat wedding photos
The most expensive cat wedding took place in Thailand in 1996. The main attraction of it was the groom Pat and the bride Ploy. The owner of the bride should have spent a pretty penny for the wedding – different sources point to the sum of approximately 16 300$. Who would ever think that even on such weddings a bride could have the corbeille. On this wedding it took its place. Its average cost is 23,000$. Wedding was full of guests, who presented the "couple" with presents in the amount of 60,000$. Gorgeous wedding we should admit.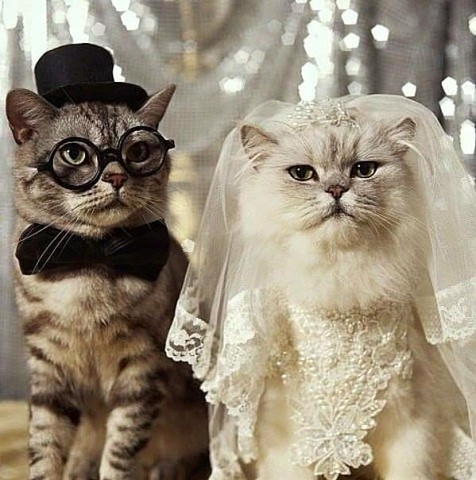 The bride arrived at the wedding place in breathtaking Rolls-Royse. She was wearing amazing purple dress and numerous accessories. The groom was not legging behind. Helicopter took him to the ceremony. A parrot and an iguana witnessed their oath. The bride was presented with a special ring made exactly for her toe.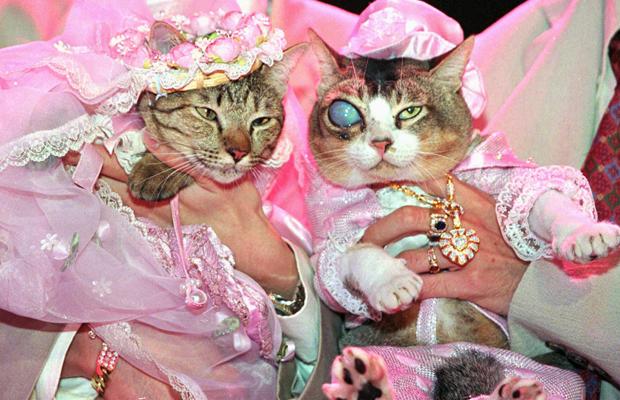 Such wedding are not a rare event. Hundreds of pet owners make some celebrations for their "best friends". Actually, it does not mean that all of them are set on such a large scale, but they are still worth our attention. The next cat wedding photos will give you a couple of glimpses of the most alluring ones. Perhaps, you will become inspired decide to have something alike because these images are sure to be awarded in the nomination "Best contemporary wedding photos in the world" .
This groom looks rather daring and altogether very appealing. It seems as if he is going to speak to you and say something in a human voice. However, the intonation of his "Meow" can be also considered as some information about his warring's. Maybe he is very anxious about the dishes to be served soon.
This is, perhaps, the most charming cat-bride we have ever seen. The dress is adorable. It fits her perfectly and exactly matches her fur. We believe that she was taken to a special cat-clothe designer for this occasion. Oh, probably many girls would like to see the sketch of it and have one made for themselves, but more humanlike.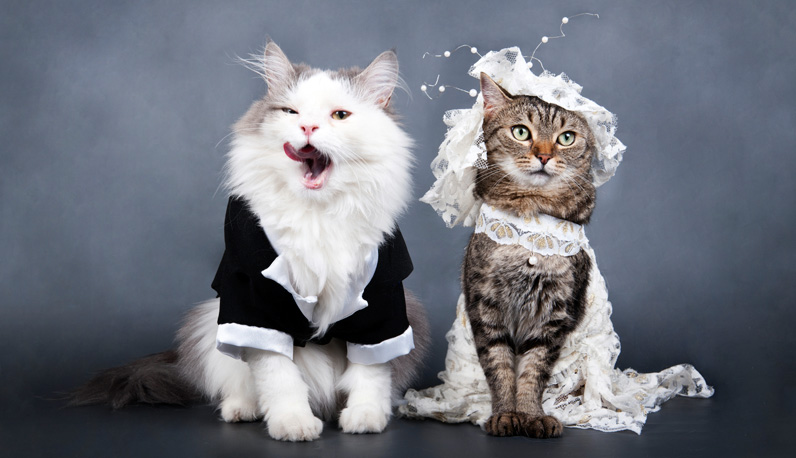 This couple is very interesting. As it sometimes happens on real wedding a bride may be worried about the occasion and the groom is just a groom. He is imperturbable. The same is with these cats. She is a bit stiff in from of camera, who knows if cats feel shy, and he is bored with all that stuff. Maybe he is eager to have some bite or he is tired and wants to have a bit of sleep.
Funny dog wedding photos
Dogs are dogs it says it all. They are far from cat nature, they may be so much funny and moving that you cannot even realize what is going on. Sometimes they may even bite you, if they do not like what you are doing radically. However, it does not prevent their owners from celebrating their weddings.
There are some unusual dog weddings, which the whole world remembers. One of them took its place in 2006. Harrods, famous British department store, housed this event. Timothy and Muffin, these are the names of bridal couple, did everything that a human couple should on the wedding. Of course, their costumes were gorgeous! At the begging of the ceremony, they were going between the astonished guests, than they listened to the prayer, exchanged "kisses" ( someone may list them as best photos of hot kisses 2016 ) and left the place of the ceremony in the fabulous horse-drawn cab. At the party they even tasted the wedding cake!
This pair is just adorable. They seem to be so serious in those gorgeous wedding attire. It looks like this dogs will in a moment pronounce their wows in their eternal love and devotion not only to their owners but also to each other. Those cute hats make them even more alluring and attracting attention of all the guests of the celebration.
Oh, how cute these lovely doggies are! They were created by God to be in the spotlight of our view. Charming "smiles" are gorgeous. Probably, they were trained to look in the camera and have fully gone through the collection of must have poses for weddings, because they seem to behave like actual professionals. Everything in this photo contributes into the whole image of the dog-wedding photos. The bride has everything required for a real lady on her the most important life event: a white dress, purls in the necklace and a real bride bouquet, which we should admit is very lovely.
Here we may observe the bride and probably bridesmaid, as we would say the best friend. Maybe they were walked together and it was the main purpose of this "close friendship".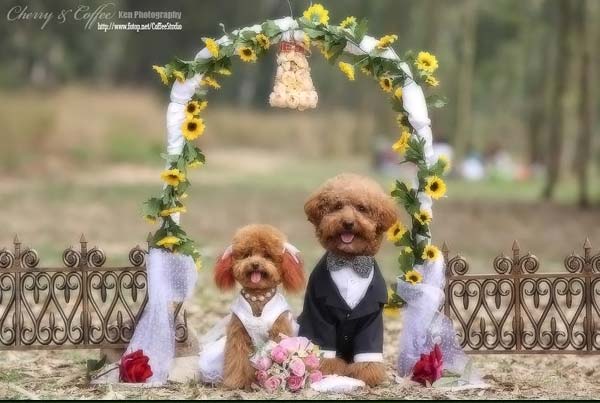 Dog weddings become more and more alike human ones. It may happen that such weddings will become even much more expensive than ours. If having made up the mind the owners do everything possible to make it true. Here you of course can observe that some of dog weddings have even an arc for an outdoor ceremony as it usually happens. We assume that it was dog wedding photographer, who took active part in finding the answer to the troubling question of "How to choose the right background for wedding shoots?".
Do pet weddings need post-production services?
Our company believes that if it comes to any wedding there should be some wedding photo editing service involved in it. Especially. If it concerns such cute puppies and kittens! They are worth our attention anyway and in particular on their wedding way. If you decided to marry your dogs, do not forget about dog wedding photographer. Some customers would like to make some funny wedding photo manipulations and he/she will be rather helpful. This person will definitely do everything possible for your pets to become as much cute as it possible. Clipping path service and wedding photography post processing services are a definite must for pet wedding. Since you decided to spend a lump of money on everything concerning the event: wedding attire for the couple, some haircuts and after party with guests: you should definitely take a photographer who will be engaged in professional photo montage. Such images will definitely brighten your collection of family memories and make those moments unforgettable. Besides, your kids, not only you, will appreciate such photos. Children like all such things and especially bright images of animal weddings will fascinate them immensely.
Animals as far as people sometimes need body retouch to be perfectly shaped in a photo. It is often practice for us to change something in our images because we do no satisfied with that wrinkles, color of eyes or simply our hair may get a bit massy. The same is with pets. Different kinds of fur also influence the results of photo session and raw images may be a bit massy. Professional photo editors can change this discrepancy in an eye blink.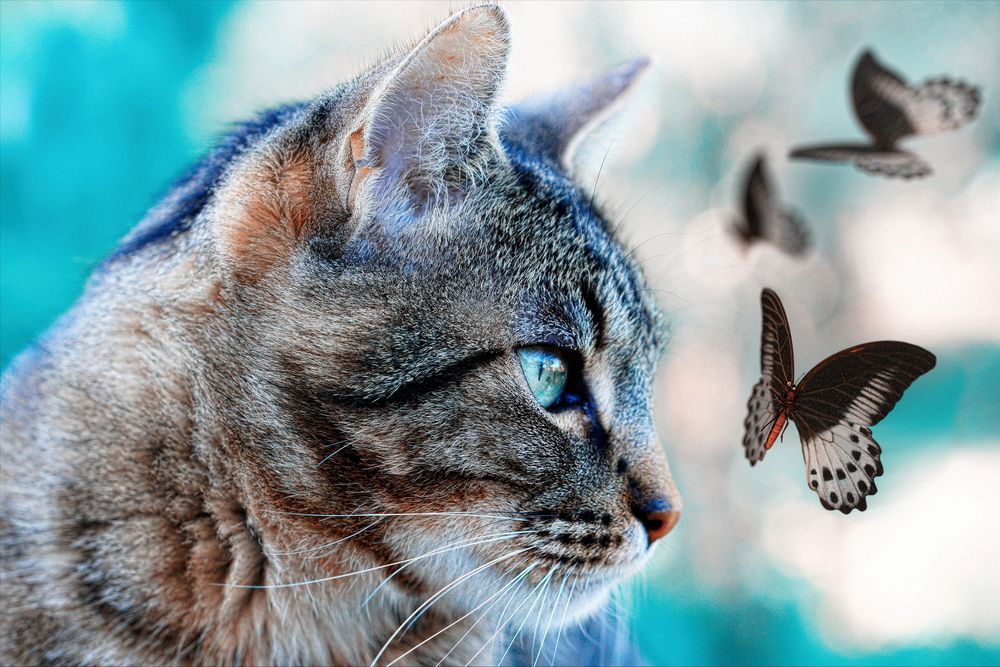 Our company affords ground for numerous retouching makeovers. We are on sort term professional photo retouching services and black and white photo editing. This is only peeling the first lay of the onion. Our company has made its name due to the results and high standards we set before us. Notwithstanding the subject of photo retouching, we do our best to produce image, which would be worth and support our high photo retouching prices.
Our company is full of inventive and non-ordinary people who are masters of photo editing. This people publish regularly in our retouching blog making you acquainted with all possible photo retouch before and after samples. We never use any of the images we worked at anywhere, because customer's rights are one of the most important issues in our company. Coming to one of not least important point of our conversation, you should think about wedding photo editing prices – how to choose the best for you. Our company's prices are quite modest and everybody can effort qualified photo retouching.
We believe that you would like to cooperate with us and are always ready to welcome you in the group of our beloved clients!
You are welcome to post your comments.
Post comment via your Facebook account