Blog
Top crazy wedding photo retouchers portfolios
Fed up of monotonous and one-type wedding pictures and photo ideas? Then this article is definitely for you!
Fed up of monotonous and one-type wedding pictures and photo ideas? Then this article is definitely for you! Here we have collected top crazy and extraordinary portfolios that will make memories about this solemn and remarkable celebration truly unforgettable not only for you, but also for all people who will see your wedding pictures. After reading this article you will definitely break the perpetuated stereotype about similarity of such photos. You will understand that wedding images may stand out from the crowd of undistinguished and lackluster pictures. And if you have made your mind to turn your professional portfolio into a brilliant collection of crazy wedding photos, postpone all unnecessary things and devote at least half an hour for this valuable information. The worth of presented crazy wedding photo ideas cannot be exuberated at all.
New trend in 2017 - crazy wedding photos
Every couple is likely to spend numerous months an even years to make wedding celebration not less than just perfect. Every detail, no matter whether it is connected with solemn ceremony, professionalism of service, groom or bride`s clothes or numberless decoration, is a thing of great importance. And definitely wedding photo shooting occupies one of the first places in the range of momentous wedding events. In the sphere of professional photo sessions, this type is believed to be the most widely-asked. Not all people order family or newborn images made in proper studios to achieve perfection. That is just a matter of taste or wish. But if we speak about wedding celebration, there professional photo shooting is just an inevitable tradition. Not a single couple can imagine wedding without devoted time to making wonderful pictures. That has become a kind of unbreakable tradition.
But still such frequently ordered photo shootings to capture happy wedding moments have brought some disappointing drawbacks and consequences. Now this type of images is considered to be a little bit boring and one-type. The range of photo ideas and used poses is almost the same. For instance, if you will be asked to think about wedding images, you will definitely imagine photographed groom`s boutonniere and the bridal bouquet.
To photograph rings together, that symbolized a recently created family union, is also a wide-spread type of wedding pictures. Certainly such images due to a considerable number of used wedding photography post processing services look perfectly. But still while looking at these photos, there is a strange wish to create something new that has not been done before.
Thus, turning your wedding photo session into a combination of unique wedding photography poses and fascinating ideas is not an easy task anymore. However, more and more people, who plan to marry, are in desperate search of unusual photographers and final perfect portfolios. They do not want to copy somebody`s already done wedding photos. They want to create their own style and key idea. But to do it various creative couples or talented photographers, as they also want to widen the offered wedding pictures ideas to allure more clients, must look through numerous professional portfolios of other photo makers to feel the pulse of modern trends and picture tendencies. So, we hope that crazy wedding photographers and successful photo poses, which are presented in this article, will contribute to your knowledge in the sphere of wedding photo making. One more article in our retouching blog is devoted to this popular topic. That is Wedding photography: 10 helpful tips to shoot an engagement.
Crazy wedding photo ideas you should not miss
Definitely every special and solemn occasion calls for a certain kind of professional photographer. And we cannot name life events that will be more special than wedding celebration. So, the photographer, whom you have trusted, is in dire need to capture everything as ideally as just possible to preserve this perfect day for you and your relatives or future children. And judging from our photo making and retouching experience, some professional photographers have shouldered this responsibility too seriously indeed. And below we will present a list of the most unusual and creative photographers from all over the world. Their crazy wedding photo ideas will make you fascinated.
The first is alternative and young photographer from Australia Mitch Pohl. He tries to break all wedding stereotypes and capture not ideal poses, but sincere emotions, even if sometimes his wedding images are claimed to be unformatted.
He is fond of shooting urban wedding photos that are not quite widely-demanded in the sphere of solemn wedding images. That is why the biggest part of his clients is young people, who want their pictures to stand out from the lackluster range of one-type photos. You may find more facts about street wedding pictures here Street wedding photography - inspiring pictures.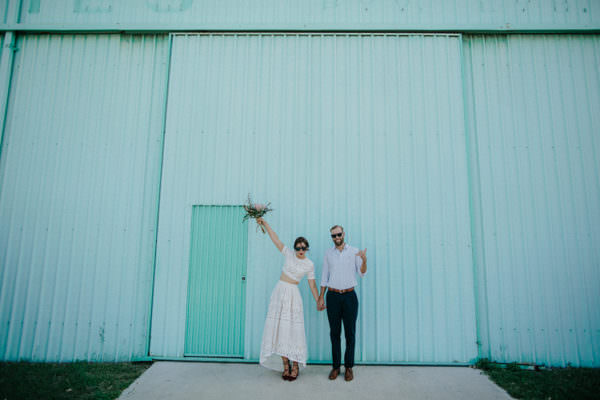 Amy Grey, that is an LA based professional photo maker, makes really vibrant and impressive wedding pictures. She has won popularity due to excellent choice of fun wedding photo ideas that help her works to stay in people`s minds for a long time after seeing her images. She tries to capture that great mix of lightheartedness and sincere emotions. In addition to this, her photo works are known due unusually bright and deep photo colors.
The next photographer has become popular not because of capturing a true love between just-married couple or happy guests. She is a professional photo maker from Surrey and she is believed to be one of the most successful bridal boudoir photographers.
This type of modern wedding images becomes more and more popular among creative young people. But still we should mention that such photo require a really professional body retouch and definitely photo color correction services. Nevertheless, final wedding outcomes are really fascinating.
David Hebble, one more extraordinary wedding photo maker, has turned his interest to the sphere of underwater wedding photography. And definitely he has succeeded in it. His pictures are truly eye-catching and unbelievably beautiful. To be more precise, they are magnetic. Such images cannot boast about having unique wedding photography poses, but still they are worth being praised.
Are you still thinking that vintage style is suitable only for special fashion pictures or old granny`s photos? Then you are a little bit wrong. Harriet Gill has brought vintage looks to modern wedding photo art. She does not tend to impress people with crazy wedding photos, but still all her works are truly unique and unusual. Atmosphere and special colors are the most prominent features of her wedding photography. In addition to it, Harriet is believed to be a true fan of black and white photo editing, as it is an inevitable part of retro looking wedding images. You may read more information about B&W wedding images here New Generation of Bridal Black & White Photo Editing
Unique wedding photography poses
One more thing that may contribute into making your wedding photos impressive and definitely eye-catching is unique wedding photography poses. Modern couples are sick-and-tired of numerous traditional oh-so-important photos with the same poses. Even high-quality wedding photo editing service cannot save them from being a complete flop. That is why we advise you to put creativity in your wedding portfolio. That will make your special day quite memorable.
The first variant of great wedding picture is to capture three generations of women in family. This photo definitely will be touching and sincere.
If touching pictures are not your matter of taste, than these fun wedding photo ideas are just for you. In case you do not mind a groom having his head under your skirt, you can turn this crazy to life. Unforgettable memories after such image are guaranteed. Wedding photographers try to capture not only happy bride and groom. So, what do you think about taking some funny photos of bridesmaids? For example, you may photo them before they get ready. Definitely you will have ridiculous, but at the same time great images.
That is one more creative idea for "shy" couples. You may ask your beloved guests to give you a sense of little privacy. As a result you will get truly unusual wedding images. And besides, you will economize on expensive professional portrait retouching services :) Are you sure that you can trust your future husband? Maybe your wedding photos show that he does not want to marry you at all? In any case such wedding pictures are really funny.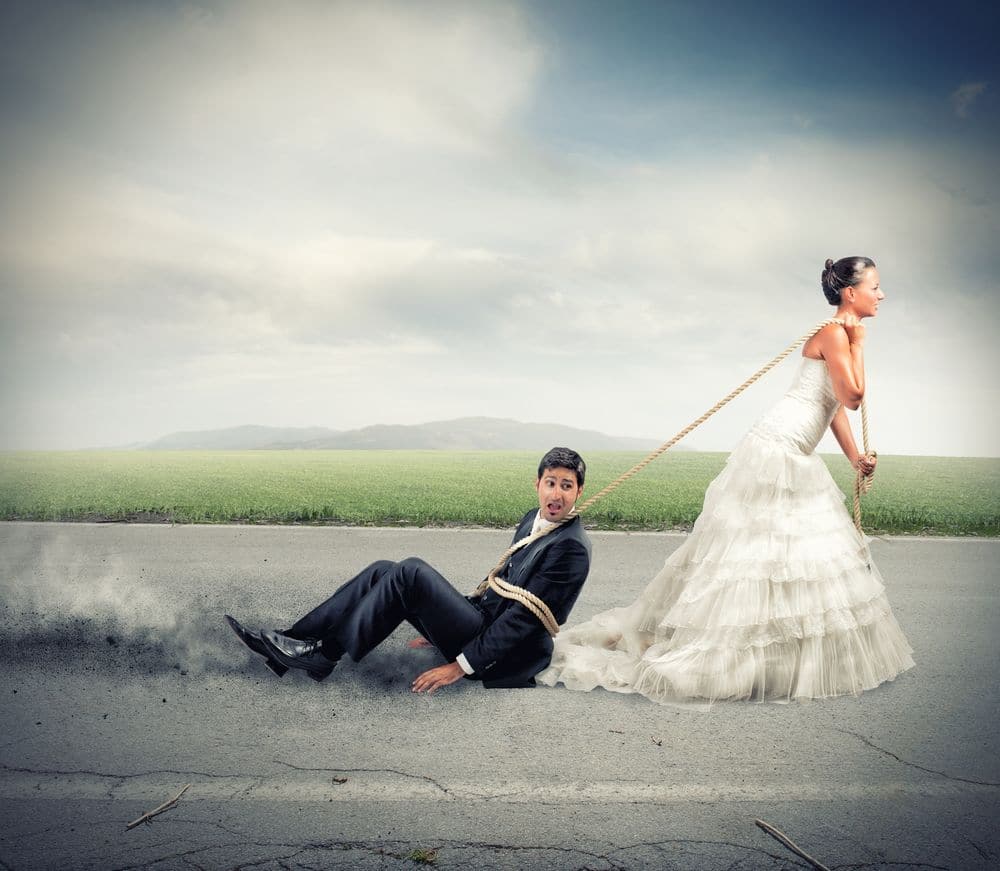 Groom`s men are also very important in every wedding photo session. So why not capturing some of goofy pictures? A great contribution for final wedding portfolio! If these pieces of advice are not enough for, you may read this article Collection of must-have poses for weddings. Here presented wedding photo poses are not so crazy, but still worth your attention.
Fun wedding photo ideas – use photo montage services
We still have not mentioned about professional photo montage as a great way to diversify boring wedding portfolio. Such images require a great amount of creativity and professional skills. For that obvious reason, you should take care about choosing the proper retouching agency. If you want to know more about modern photo montage options, this article Top crazy professional wedding photo montage will become interesting and quite useful for you. If you still hesitate whether to ask for professional editing help or to do wedding retouching on your own, these articles Wedding photo editing pricing - how to choose the best for you and Wedding photo post processing – How not to spend tons of hours will help you to make a reasonable decision.
The brilliant decision will be to co-operate with our editing company. Our skillful photo manipulators provide numberless happy couples with outstanding wedding outcomes. We may do everything that is needed for such pictures, starting from portrait or alluring family photo editing to professional clipping path service at definitely affordable photo retouching prices. You may be confident that photo retouch before and after done by our specialists will exceed all expectations!
You are welcome to post your comments.
Post comment via your Facebook account